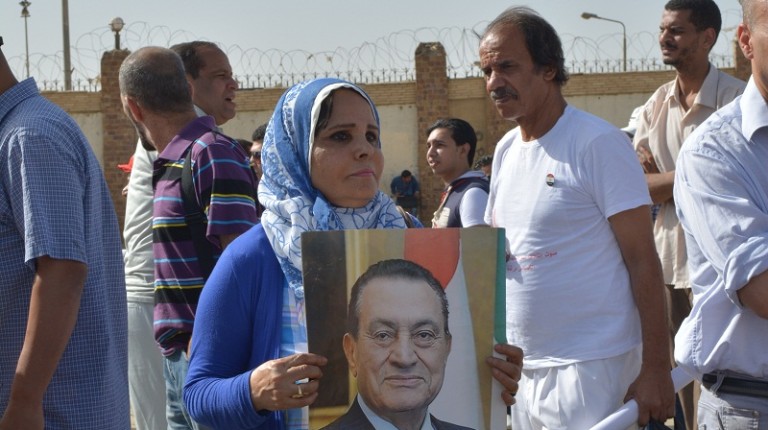 The Muslim Brotherhood said ousted president Hosni Mubarak is receiving defence and litigation rights which citizens did not receive during his "oppressive tenure", after Mubarak's trial was postponed.
The court postponed on Saturday Mubarak's trial, scheduling the next session for 29 November.
The Brotherhood said in a statement Saturday, "the words of a politicised judiciary" are a "distortion of the truth".
The Brotherhood said there have been "judicial farces" in the country's courts for the past 15 months, citing life sentences handed out for charges such as "blocking roads, crimes which were never committed in the first place."
The group also cited the death sentences handed to hundreds allegedly "without defence, papers or any legal due process" by a court in Al-Minya. In March, the Minya Criminal Court handed 528 people preliminary death sentences while in April, the same judge handed some 683 others preliminary death sentences, including Muslim Brotherhood Supreme Guide Mohamed Badie.
The Brotherhood's Mohamed Morsi was ousted in July 2013 after serving as president of Egypt for one year. Since his ouster, many of the Brotherhood's leading figures were arrested and put on trial including Morsi.
Earlier this month, Badie was sentenced to life in prison for murder and inciting violence during July 2013 clashes.
During Mubarak's trial on Saturday, the court said it needed more time to issue the verdict reasoning based on the 160,000 paper-case.
Mubarak is being retried for his role in not preventing the killing of protesters during the 25 January Revolution. He was sentenced to life in prison in June 2012 for failing to protect protesters.
However, defence lawyers for Mubarak appealed the verdict to the Court of Cassation and so did the public prosecution, which said new evidence had arisen. The court, the highest in Egypt, accepted both appeals and ordered a retrial in January 2013.