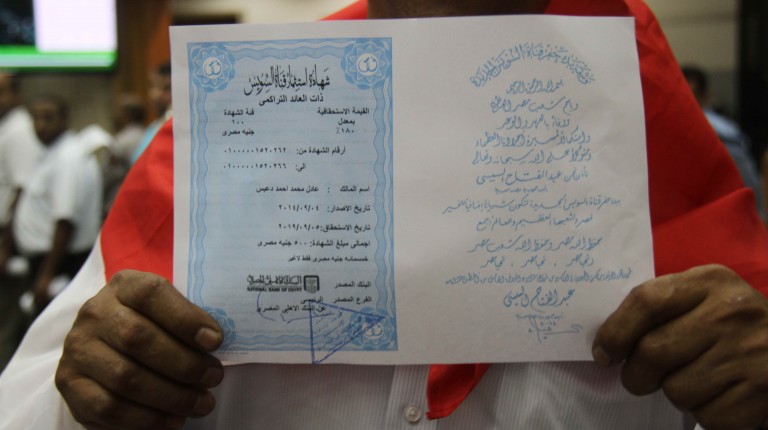 The repetition of the Suez Canal investment certificates experience for other national projects is possible, Minister of Planning and Administrative Development Ashraf Al-Araby announced Tuesday.
Within eight days of their issuance, the investment certificates collected EGP 64bn ($8.5bn). Governor of the Central Bank of Egypt Hisham Ramez announced that the percentage of citizens who purchased the Suez Canal investment certificates during the first several days was around 90%, adding that during the final stages, the percentage settled at 82% for citizens and 18% to institutions and companies.
A total of around 70,000 people purchased the EGP 10 certificate and around 150,000 purchased the EGP 100 certificate. The largest figure recorded was for the EGP 1,000 and its multiples.
Discussing the development of the Golden Triangle project, which would connect the industrial centres of Qena, Safaga and Al-Qaseer, the minister said to state-owned news agency MENA that a consultant will be selected for the project during October.
The minister explained that the consultant will prepare the project's plans. He added that the plans for the project are expected to be finalised in less time than the time required for the Suez Canal development project plans.
In January, the Egyptian government, headed by then Prime Minister Hazem El-Beblawi, stated that will submit the government Golden Triangle project to an "international house of expertise" in March.
An alliance between Shair, partners Dar Al-Handasah and its Egypt-based firm have won the bid for the Suez Canal Project. The alliance will require six to eight months to complete the project's master plan.