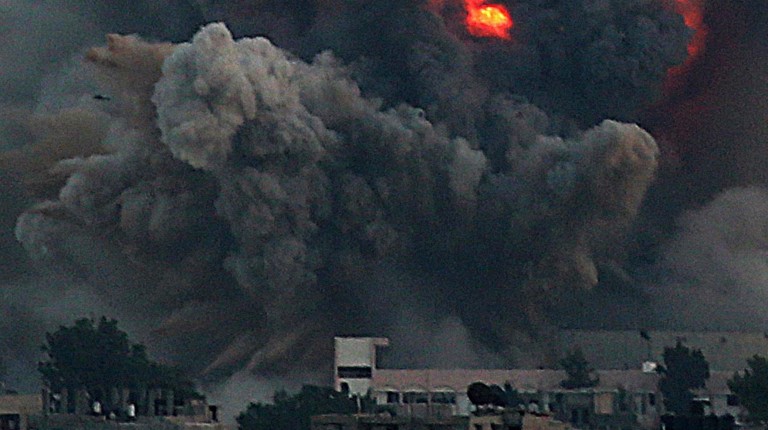 Police forces broke into Al-Azhar Girls University following protests organised by the Students Against the Coup (SAC) movement, with the security forces trying to arrest participants, according to a movement spokesperson.
The spokesperson added that at Al-Azhar gate in Darasa, police anticipated protests and arrested one student before releasing her shortly thereafter.
Other campuses in Damietta, Dakahlia, and Ain Shams witnessed minor confrontations between students and police forces, SAC official page reported.
The participants protested the earlier mass arrests of fellow colleagues and the heavy presence of riot police inside and outside campus, as well as demanding the fall of "military rule", according to Al Marsad Student Observatory.
The Ministry of Interior was not available for comment.
On Sunday, in Mansoura University large numbers of riot police stormed the campus gates, as students clashed with Falcon personnel destroying one security gate.
SAC branch in Mansoura condemned the incident describing it as "systematic attempts to use violence against students", using armoured vehicles and riot police. The group added that they won't accept such insults again, and that they hold the president of the university responsible for all the attacks.
The Ministry of Interior said Sunday that an overall of 29 students were arrested from Mansoura, Minya, Al-Azhar, and the Faculty of Dentistry.
Khaled Said member of Anti-Coup Alliance condemned Sunday the crackdown on students in university campuses by security forces and the private security members. Also, Al Marsad Student Observatory said it condemns the human rights violations of students.
Since last week with the beginning of the new academic year, SAC held a number of protests clashing with riot police and Falcon personnel.
Minister of Interior Mohamed Ibrahim announced last week that riot police will be stationed inside Al-Azhar University's campus. Meanwhile, police will secure the Cairo University gates from outside in cooperation with the private security company.
Human Rights Watch, Amnesty International, the Association for Freedom of Thought and Expression demanded the Egyptian authorities release university students arrested.
Since the start of the academic year on 11 October at least 163 students have been arrested, according to Democracy Index.