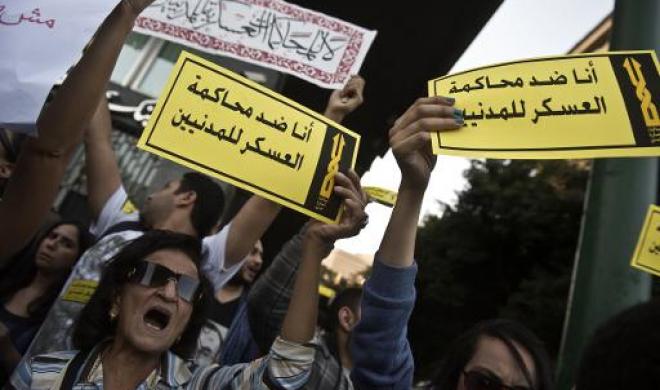 A group of 15 independent rights organisations expressed "extreme concern" over a presidential decree that subjects a large number of public establishments to the mandate of military facilities, the Cairo Institute for Human Rights Studies (CIHRS) said in a statement on Thursday night.
The groups, which include the Association for Freedom of Thought and Expression, Nara for Feminist Studies, and the Egyptian Initiative for Personal Rights, also warned "against the consequences of undermining the civilian justice system under the pretext of combating terrorism."
Egyptian President Abdel Fattah Al-Sisi issued law No. 136/2014 on 27 October, granting the military judiciary greater authority.
As of now, public buildings and facilities including "electricity networks and stations, gas pipes, oil fields, railways, road and bridge networks, as well as other buildings, utilities and public property and anything that is considered as such," is under the "security and protection" of the military judiciary.
Through this provision, the military can send any civilian accused of vandalising public property or blocking public roads for trial in a military court.
According to the CIHRS statement, these charges are often levelled against anti-government protestors. As this decree expands the jurisdiction of military courts, it "seriously jeopardises citizens' right to fair trials and further aggravates the current crisis of the Egyptian justice system."
For example, the groups stated that, since 30 June 2013, civilians accused of terrorism-related offences have faced trials in Suez, Ismailia, and Hikestep military courts and have been detained in military prisons where they allege that torture and other degrading treatment took place during arrest or in custody.
Lawyers say that the Ismailia military court alone reviews between 40 and 140 misdemeanour cases involving civilians three times a week, and 20 to 45 weekly felony cases.
Military trials are held in maximum security military establishments inaccessible to defendants' lawyers and families, undermining their rights to adequate defence. Many defendants claim to have signed confessions whilst under torture.