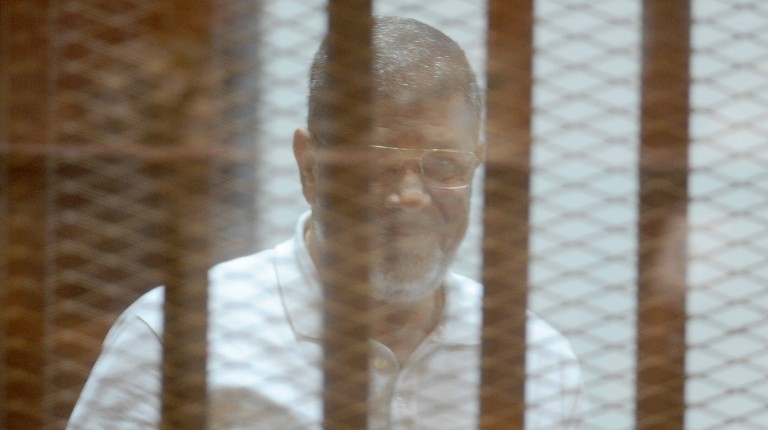 Cairo Criminal Court postponed Monday the trial of former president Mohamed Morsi and fourteen others in the Presidential Palace trial until Wednesday.
The court will continue hearing the defense statements in the coming session, according to state media.
The defendants are accused of inciting the murder of protesters during clashes outside the Itihadiya Palace in December 2012.
The defence of Gamal Saber, one of the defendants and a prominent Salafi leader, told the court that once former president Mohamed Morsi took office, he was not supported by state institutions to enable the country to reach a safe position.
The lawyers added that the National Salvation Front, an alliance of political parties created in 2012 to compete with Islamist parties, plotted the fall of Morsi.
The defence also said that the front was behind many events of violence, as well as rallying to oppose Morsi's constitution declaration, which he issued in 22 November 2012.
The court was set to be aired on state television. However, it was not broadcasted.
The 15 defendants in the trial, which took place at the Police Academy in Cairo's Fifth Settlement, include notable Islamists such as the Muslim Brotherhood's Supreme Guide Mohamed Badie, Freedom and Justice Party (FJP) Chairman Saad Al-Katatni, ultraconservative preacher Wagdy Ghoneim, and senior FJP member Mohamed Al-Beltagy.
Morsi is also co-defendant in three other trials: escaping from Wadi El-Natrun Prison on 28 January 2011; insulting the judiciary; and for espionage by working with foreign Islamist groups to "create chaos" in Egypt.
Morsi has been in custody since his ouster by the military on 3 July. Until his first appearance in court on 4 November, his place of detention was unknown.
He is yet to receive a verdict in any of his trials.