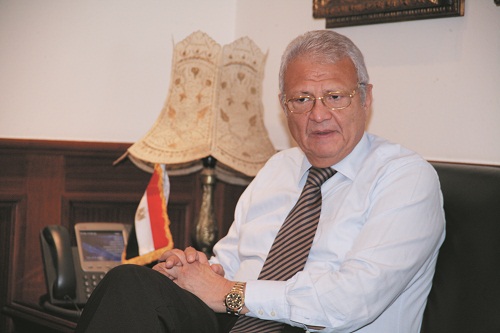 The Ministers of Communications and Scientific Research have agreed to establish a Technological Innovation and Electronic Industries Complex in the Technology Zone in Maadi, during the Tuesday events of Cairo ICT 2014 Conference, taking place between 4 and 7 November.
The complex will be created in cooperation with the National Service Projects Organization of the armed forces. The agreement was made through a memorandum of understanding signed in the presence of Prime Minister Ibrahim Mehleb.
The memorandum of understanding will provide the climate and the scientific, research, marketing, and investment tools necessary to support innovation and entrepreneurship among youth and Egyptian small and medium enterprises (SMEs).
This will take place particularly in the electronics and micro- and nanosystems fields. The memorandum will be applied in the communications and information technology sectors in addition to others.
The memorandum of understanding stipulates that the Information Technology Industry Development Agency (ITIDA) implement a project to create and manage an "excellence centre". The project will be managed in cooperation with the Science and Technology Development Fund, the Egypt Nanotechnology Research Center at Cairo University, and the National Service Projects Organization of the armed forces. Rooms and laboratories will be built alongside the purchase and supply of equipment and programmes at the centre.
The memorandum also stipulates that the Ministry of Scientific Research, represented by the Science and Technological Development Fund, provide the tools, equipment, and funding necessary to tender and implement research projects through the centre.
The process will take place in cooperation with the industry as well as universities and other research centres. Cairo University will transfer all activities of the Egypt Nanotechnology Research Center to the complex and provide the human resources and technical expertise necessary for research and development.
According to the terms of the agreement, ITIDA will take over financial and administrative oversight of the complex during development while also preparing a strategic vision, policies, and marketing plans.