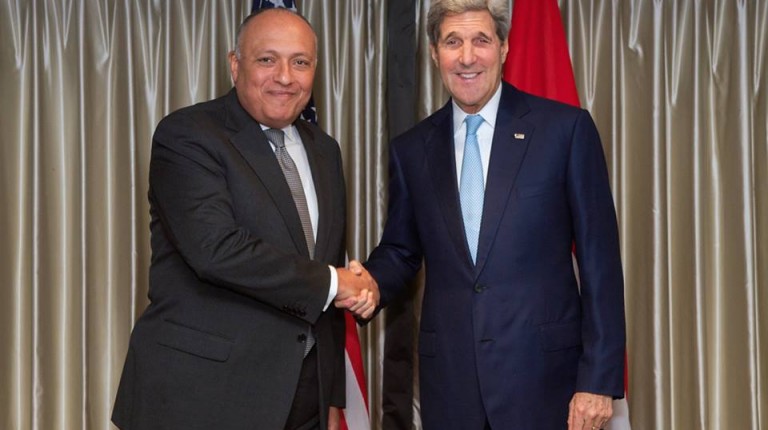 Egyptian Minister of Foreign Affairs Sameh Shoukry met in London with US Secretary of State John Kerry to discuss the Israeli-Palestinian conflict in light of the escalating tensions in Jerusalem.
The two discussed on Tuesday ways of working to contain the situation and "prevent the region from sliding into a vicious cycle of violence", said an Egyptian foreign ministry statement.
They talked about the Egyptian and the United States' roles in this regard, which requires the resumption of peace talks between the Israeli and Palestinian sides, based on international conventions.
Shoukry and Kerry also discussed bilateral relations between the two countries and ways of boosting them in various fields. Kerry expressed his country's strong support for Egypt's stability and his country's support for the aspirations of the Egyptian people, said the statement.
On their agenda was the situation in the Middle East, especially the developments of the crisis in Syria and ways out of the current stalemate, in addition to the ongoing "war against terrorism", and regional and international efforts to address it.
Shoukry also met on Tuesday with British National Security Advisor Nigel Kim Darroch in London, and with Saudi Arabian foreign minister Saud Al-Faisal in Paris on Monday. The meetings come as part of a European tour Shoukry is taking to discuss the region's issues on an international level.
During the meetings with the British and Saudi Arabian officials, Shoukry discussed bilateral relations and ways to develop them. They also discussed Palestine and efforts of reconstructing the Gaza Strip, and the political and security situation in Libya.
Shoukry also discussed the situation in Iraq and the importance of the participation of all national Iraqi forces in the political process, regardless of religious, ethnic, or sectarian affiliation.
Shoukry and Darroch discussed efforts of the international coalition to confront the extremist group Islamic State of Iraq and Al-Sham (ISIS), as well as the joint coordination on anti-terrorism.
They discussed the political and security situation in Libya in detail and the efforts to restore security and stability and the importance of supporting the Libyan government's efforts in this regard.
Shoukry and Al-Faisal also discussed terrorism, as well as addressing the political and security situation in Yemen and the efforts to restore security and stability.
They dealt with developments of the Syrian crisis and ways to spare the Syrian people more bloodshed, preserve their unity, and realise their aspirations for freedom, democracy, and stability, according to the statement.
Shoukry is to go to Copenhagen to attend the high-level ministerial partnership forum on Somalia on 19 and 20 November.