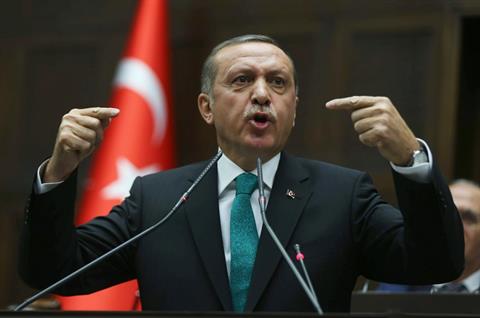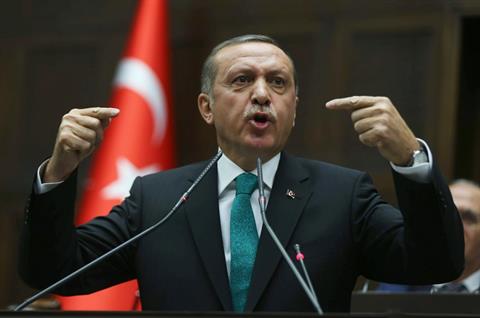 Egypt's foreign ministry condemned Turkish President Recep Tayyip Erdogan's remarks and his "flagrant intervention" in Egypt's internal affairs, according to a Monday statement by the ministry.
Erdogan's comments about Egypt came during a joint press conference Monday with his Russian counterpart Vladimir Putin, in which they discussed the situation in Syria.
 Erdogan said that all the over the world "putschists" come to power with high voters' turnout. "We have previously witnessed this in Turkey and we saw the high voter [turnout] during the elections in Egypt, and we also saw who participated in the elections."
He said that "President Mohamed Morsi came to power with 52% of the votes but now military putschists came into power using anti-democratic ways" and added that eventually the "putschists acquired legitimacy and are now leading Egypt".
However, the foreign ministry statement noted that "Erdogan is disregarding the Egyptians' will that was embodied in the 30 June revolution and the presidential elections."
"Despite Egypt's reluctance and disregard for the reckless comments, Erdogan's efforts to comment on Egypt entails ignorance, recklessness, lack of understanding of the realities and the determination to live in illusions tied with prioritising his personal stances and narrow ideologies on things," the statement read.
Tensions have arisen between the two countries as the Turkish president has reiterated his critical comments on Egypt's internal situation on different occasions since the ouster of former president Mohamed Morsi in 2013, which resulted in the downgrading of relations with Turkey.
The latest of these comments came in September during the World Economic Forum in Istanbul, where Erdogan questioned the legitimacy of the Egyptian government, and Egypt's foreign ministry responded that he is "not in a position to give lessons to others about democracy and respect for human rights and appoint himself as the guardian of them".
During Egypt's attempts to broker a peace treaty between Israel and Gaza  to end the conflict in July, Erdogan commented on Al-Sisi calling him an "illegitimate tyrant" and noted that Egypt "could not be relied upon" to broker a peace treaty between Israel and Hamas.