The alley leading to Mashrabia Gallery is decked with small tables for coffee sippers and shisha smokers. The crowds that frequent are older gentlemen, but once one turns left and heads up to the gallery the atmosphere instantly changes. Men sporting moustaches grumbling over current events disappear – and instead are replaced with wide-eyed twenty-something-year-olds excited to see art.
The ambiance for Mashrabia Gallery's newest exhibition, "Third Eye", is like the apple shisha scent that lingers from downstairs – sweet. Hugs and kisses are abundant with friends and family coming out to congratulate one another profusely.
This celebratory behaviour is not uncommon for a gallery opening, but something about the "Third Eye" opening is especially auspicious. Very quickly it becomes clear that the five Egyptian photographers whose work is on display are very young, and with that, comes a lot of promise.
The photographers showcased are Sherifa Hamid, Tasnim Abdel Rahman, Nadia Mounir, Amr Adel and Ziad Tarek Hassan. Each photographer brings a unique style that is all neatly tied together by chief curator Hala Elkoussy.
From the reverent architecture captured by Hamid, and the organised chaos snapped by Adel, to the surreal vestiges shown by Abdel Rahman, and the ordinary captured with an extraordinary flair by Mounir, to the clever interplay between work and play taken by Hassan, one gets to gaze at Cairo's many faces.
When asked why the exhibition featured such young photographers, Elkoussy said: "Naturally because they are the future." She added that it is "because it is a responsibility that [she] feels to provide better opportunities than the ones that were available to [her]".
Elkoussy adds that "when the standards are identified as to how an exhibition is put together, they can then take these standards and move on with their career". Elkoussy has taught photography and continues to lecture and write on the subject, which explains why she's able to nurture young talent.
Elkoussy chose to work with these five photographers because she was inspired by the "quality and individuality of the work" she saw. So inspired, that she invited them to participate in a three-month-long workshop that would culminate in the "Third Eye" exhibition.
Hamid is intrigued by the relationship between architecture and space, and finds these elements to be the source of her inspiration when she photographs. Though she's had some experience with acrylic and oil painting, Hamid, like most of the photographers in the exhibition has had no formal training in photography prior to linking up with Elkoussy.
Adel, whose interest in photography was sparked in 2004 after his father gave him a camera, told Daily News Egypt that he "look[s] for a certain point of view, to find an image that's present that people don't notice". He added that he takes close to 40 pictures a day and adds that he "loves to walk" –  a custom that has so far shaped how he photographs.
Abdel Rahman, who is self-taught, picked up photography three years ago when she was 17. A lover of all things antique, from dilapidated homes to crumbling sidewalks, her work reflects her passion for the aged. She does not shy away from taking pictures of people either, saying that "she loves people because they are the essence of life".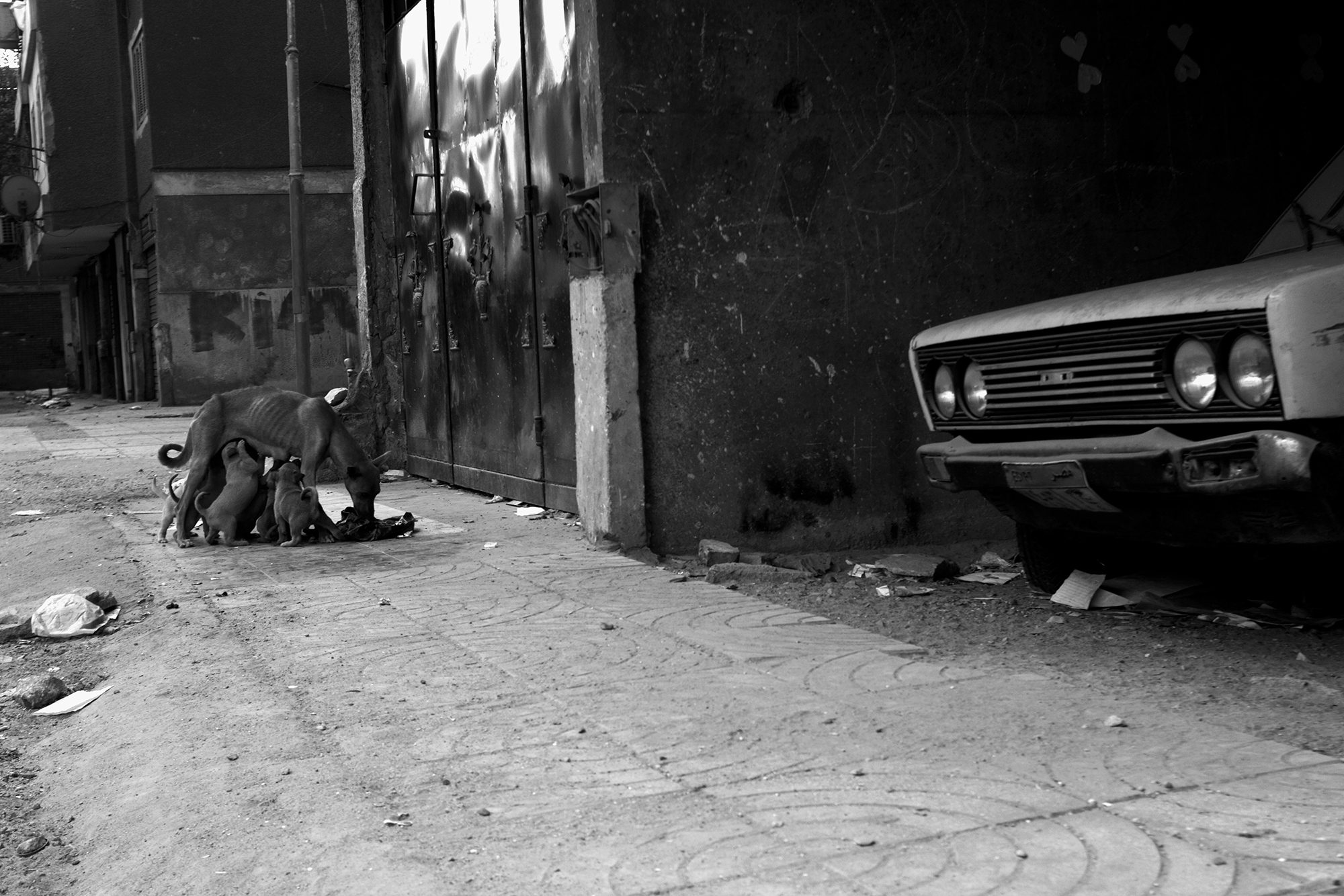 For those that believe that Cairo only has a dusty yellow tint to it, Mounier's work reflects the capital's unappreciated and surprising colours. Mounier is able to capture a kind of Cairo that's almost surreal – a dreamlike sequence that most take for granted.
The photographs featured by Hassan differ from the others in the exhibition insofar as his collection is shot entirely in black and white. A photographer paints with light, and Hassan's work shows his impeccable control over the medium. When asked what's in store in the future, Hassan says he's "not really sure, I'm focusing on finding my voice".
Hassan's response resonates with Elkoussy's philosophy on what she looks for in a good photograph or any art for that matter. She says: "If I were to identify one thing, I would say I look for an individual, personal position from the World. I look for the reflection of the person behind the work."
"Third Eye" features work from young photographers whose work is mature, whose perspective is blossoming. This exhibition is their coming of age party – not to be missed by those who hold dear the promise of emerging talent.
"Third Eye" exhibition is open every day from 11 am-8 pm, except Fridays. It will be running until 13 January. For more information, call 0225784494