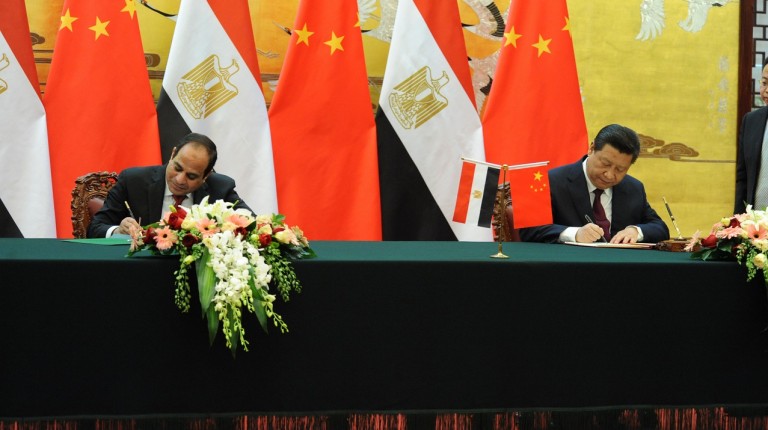 Egyptian President Abdel Fattah Al-Sisi and his Chinese counterpart Xi Jinping signed a comprehensive strategic partnership agreement. The partnership agreement included three cooperation agreements in the fields of economy and technical cooperation.
The two parties signed a memorandum of understanding to establish a joint laboratory for renewable energy, between Egypt's Ministry of Scientific Research and China's Ministry of Science and Technology
The third agreement was a cooperation agreement between China National Space Administration (CNSA) and the National Authority for Remote Sensing and Space Sciences (NARSS).
The Chinese president expressed his country's interest to invest in Egypt, especially as China has noted the efforts Egypt has made in order to improve the investment climate. He stated that the Chinese government is keen to support Chinese companies to implement projects in various areas, such as railways, high-speed trains, the construction of tunnels and the Suez Canal Development Project.
Jinping pointed out that he encourages trade between both counties, adding that Chinese companies are encouraged to import from Egypt. He mentioned that Egyptian exporters should study the Chinese market and work on promoting their products.
During his speech before the Egyptian-Chinese Business Council in China on Tuesday, Al-Sisi invited Chinese investors and companies to actively participate in the March 2015 Economic Summit in Egypt.
"I come bearing a message from the Egyptian people, who made two revolutions within three years in order to regain their country and redirect their revolution to the right direction," Al-Sisi said.
"This population is now inviting you to form a serious partnership and have constructive cooperation to achieve development," he added
The Egyptian president, who was accompanied by the Minister of Foreign Trade and Industry Mounir Fakhry Abdel Nour, also met with leading Chinese tourism companies.
The Egyptian minister said that the country is targeting some 120m Chinese tourists to spend $120bn in Egypt per year.