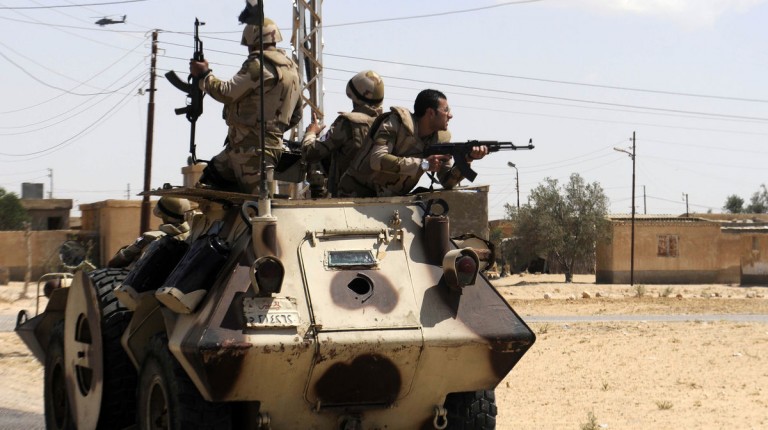 A total of 297 people were arrested during military raids in Sinai between 24 and 26 December, according to a Saturday statement by an armed forces spokesperson.
The statement added that an "extremely dangerous terrorist" was also killed during the course of the operations. His name was given as Tawfik Awad Soliman.
According to a representative from the military spokesman's office, Soliman was a member of the 'State of Sinai' militant group, formerly known as Ansar Beit Al-Maqdis. The military also announced the destruction of 14 tunnels leading to the Gaza Strip.
Of the arrested individuals, 218 were said to be migrants who had illegally entered Egypt, 67 were "suspects", and another 12 were "wanted" for unspecified reasons.
Sinai is a transit point for African migrants trying to reach Israel.
Military forces have taken on many police duties in the restive Sinai Peninsula, part of heightened security measures aimed at containing security threats in the area.
The statement also mentioned the seizure of 835,500 tablets of the drug Tramadol, and of 25 tonnes of cannabis products, as well as the destruction of 18 acres of marijuana fields.
In a separate incident on Saturday morning, the armed forces said they detonated an explosive device in the town of Al-Arish, in North Sinai, according to state-run MENA, with no casualties reported.
North Sinai witnessed a marked increase in militant attacks since the ouster of former Islamist president Mohamed Morsi. The deadliest attack took place on 24 October and left at least 30 security personnel dead.
Last Tuesday, 'State of Sinai' released a 10 minute video showing masked gunmen inspecting vehicles along the Arish-Rafah international road in North Sinai. Reports of militants running checkpoints in North Sinai are not new, though previously there had been no evidence to corroborate the claims. A military spokesman, however, dismissed the images as "fabricated".