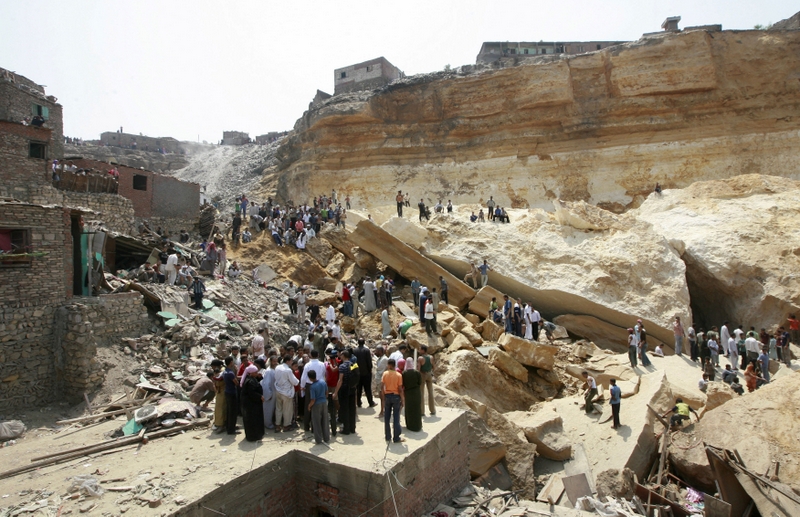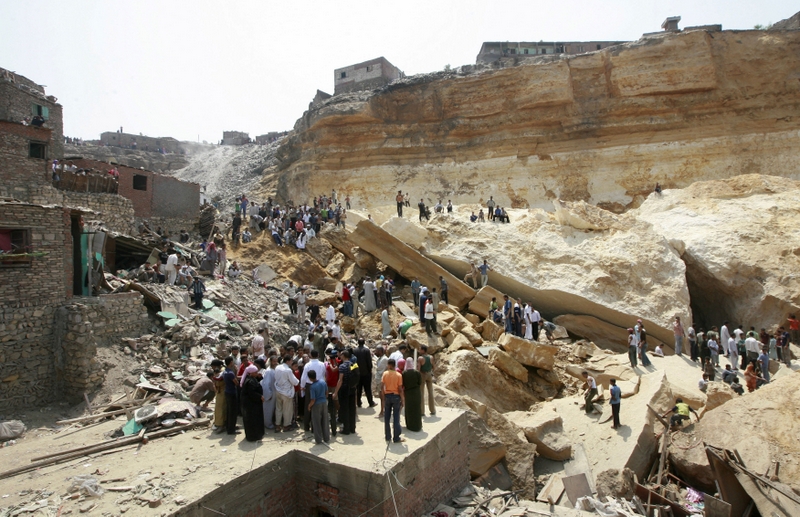 A rockslide occurred in the informal settlement of Manshiyet Nasser located near the Mokattam hill in Cairo at dawn Saturday, Khaled Mostafa, a spokesperson for the Cairo Governorate confirmed in statements to Daily News Egypt.
"The part of the cliff that fell weighed two tons, but there were no injuries because we had completed evacuating the area on the previous night," Mostafa explained.
Prime Minister Ibrahim Mehleb and Cairo Governor Galal Said went to inspect the location following the accident.
The Cairo Governorate said in a press statement that over 70 families have been relocated from the Razzaz area in the settlement and their houses demolished after their evacuation so that they do not 'consider returning', state-run news agency MENA reported.
NGOs following up on the issue had called on the government not to proceed with the evacuation without reaching a full agreement with the residents, saying most of them returned to their houses in Manshiyet Nasser after rejecting the government's alternatives in the areas of Mokattam and 6th of October City.
The evacuation process began in April, with the first phase resulting in the demolition of 19 houses and sending 98 families away to other residential locations in Mokattam, in addition to the Cairo suburbs of Badr City and 6th of October City.
The decision to evacuate was officially passed last March, and came upon recommendations and warning reports by a committee of experts in geological affairs confirming threats posed by a potential rockslide on the hill.
A nearby informal settlement to Manshiyet Nasser called Doweika suffered a similar tragedy in 2008, when a rockslide killed over 100 and injured over 50 residents.
Since then, there have been complaints and reports regarding 'forced evacuation', especially following statements that the governorate used security forces in the process. The Egyptian Center for Social and Economic Rights (ECESR) and the Egyptian Initiative for Personal Rights (EIPR) focused on the issue through intensive interviews with residents, who mostly complained about having to live in 'conditions' they did not approve of.
Ramadan, a resident and owner of a building, told ECESR in April that on the evacuation day he refused to get out and told the forces that he would not leave before receiving documents that guarantee the right to own another apartment, as promised by the government.
Since the 2008 crisis, residents have been facing similar problems, mainly related to moving to areas that are far from the neighbourhood, transportation costs, rent costs, and absence of facilities.
Another female resident reportedly told ECESR that she, her husband and seven children had returned to their house after discovering the 'impossible living conditions' they were to face. "The flat they gave us was not finished, had no electricity, water, sewage, windows nor doors, and we do not know if we rent or own it," she was quoted as saying.
For his part, Mostafa told Daily News Egypt that as some refused to move and told authorities they were to bear responsibility for their own safety, "we had to force them to leave in order to save their lives".
However, a December analysis report on the Razzaz area conducted by a team of researchers for ECESR established that the residents were "forced to leave" because they were not included in the decision-making process, and were just 'informed' of the government's plan.