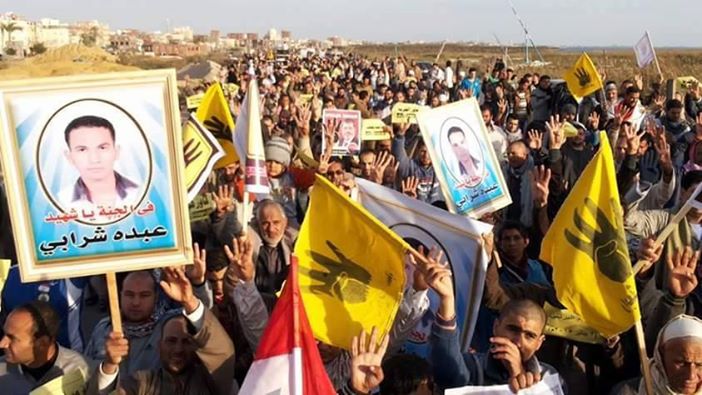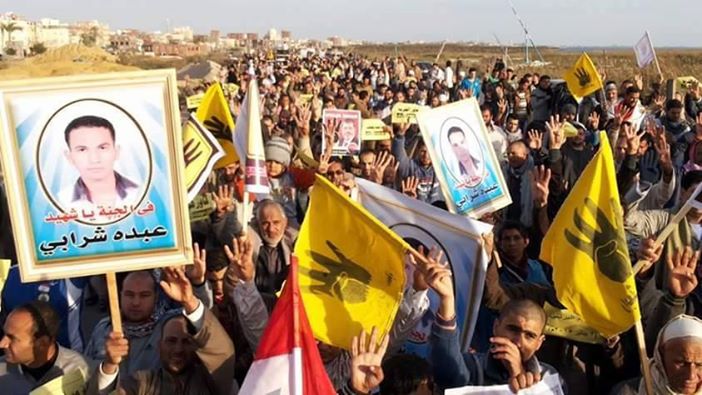 The Freedom and Justice Party (FJP), the political wing of the outlawed Muslim Brotherhood, said Friday that one protester was killed in Helwan, while state media reported that an army sergeant was shot in the head in Matariya district.
The two were killed Friday, as riot police dispersed anti-government protests. The ministry of health denied that any protesters got killed in the clashes.
In Hadayek Helwan, anti-government protesters staged demonstrations after the Friday prayers calling for the fall of the regime, the release of detainees, and the "return of the democratic path", while condemning referring civilians to military courts.
In Matariya and Ain Shams districts, areas in eastern Cairo in which the Brotherhood supporters have a strong presence, security forces dispersed protest marches, leaving an army sergeant named Mahrous Abdel Salam dead.
The prosecution investigation revealed that he was shot in the head with a live round. It issued the burial permission and asked the police to continue on with the investigations to arrest the collaborators.
It is unclear whether the deceased was participating in the protests or not. State media said that he was killed while "a Brotherhood march was passing".
Other protests took place in Giza, Sharqeya, Menufiya, Kafr Al-Sheikh, and Minya.
The Anti-Coup Alliance (ACA), a group of Islamist parties formed in support of former president Mohamed Morsi, called upon its supporters to continue protesting till the fourth anniversary of the 25 January Revolution. In statement, late Friday, titled "the agitation campaign for the 25 January uprising", the alliance mourned the dead on Friday and promised new protests "which will confront the oppressive forces".
In the last anniversary, Matariya saw the worst violence during the third 25 January Revolution anniversary, as pro-Morsi protesters confronted local residents and riot police. WikiThawra, an independent database dedicated to the Egyptian revolution, listed 30 dead and 70 injured in the mentioned incident.
Since Morsi's ouster in July 2013, protests and street clashes have resulted in the deaths of hundreds of protesters and scores of police personnel.