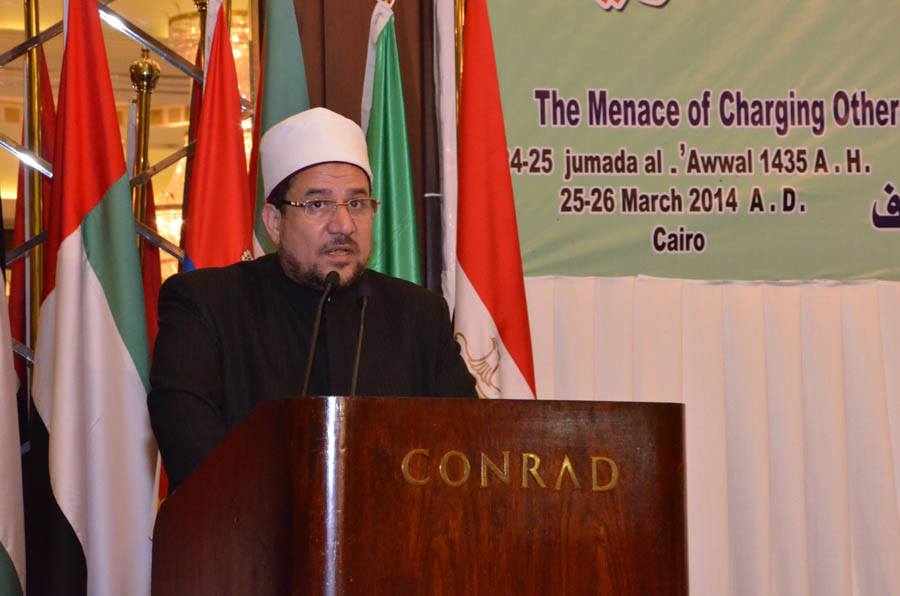 The Minister of Religious Endowments, Mohamed Mokhtar Gomaa, stressed Saturday in a panel discussion in the ministry's headquarters the need to "renew religious discourse".
He explained that the "problems" society faces are due to "unspecialised" preachers and "to movements that propagate loyalty to groups and not to religion and its teachings".
Gomaa added that although discussions to develop religious discourse were falsely interpreted by some, "our new approach is to revisit religious texts and thinking while keeping modernity in mind."
A similar announcement was made on the first week of January by Ibrahim Negm, advisor to the country's Grand Mufti. Negm also said that the Mufti urged employees at Dar Al-Iftaa to provide religious advices to Muslims "in a modern way".
He added that the institution is going to increase its online activity using social media to reach out to Muslims inside Egypt and abroad.
The initiatives took place after President Abdel Fattah Al-Sisi's said on 1 January that Islamic institutions in the country, including Al-Azhar, the Ministry of Religious Endowments, and Dar Al-Iftaa, should "renew religious discourse".
The president emphasised the importance of "correcting religious speech so that it is in accordance with the tolerant Islamic teachings", which "should eliminate sectarian disputes and confront extremism and militancy".
He stressed the need for a "religious revolution" to confront extremism. "It is illogical that the way of thinking, which this nation adopts, be the source of unrest, danger, and destruction all over the world. Here I don't mean the religion, but its interpretation."
This interpretation, Al-Sisi said, "has been followed for hundreds of years and has made enemies of the whole world."
The three major Sunni Muslim institutions in Egypt have been supporting the Egyptian state in its efforts to reverse the spread of Islamic militancy, preaching the need to support the state and the current government or by addressing radical opponents of the government, such as the so-called "takfiri" elements.
Egypt's Ministry of Religious Endowments has heavily condemned the actions of radical Islamist militants in Iraq and Syria, among security and regional concerns over the expansion by the Islamic State in Iraq and Al-Sham (ISIS), which rebranded itself 'Islamic State' establishing a self-proclaimed 'Islamic Caliphate'.
In several different occasions, the ministry called members of ISIS "Kharijite", as well as condemning its violent actions.
The term "Kharijite" is used by Islamic scholars to describe groups who go against religious leaders or traditional religious institutions. The term originated in the 8th century in Arabia, when it was used to refer to Muslims who rejected the leadership of the Islamic Caliphate of Ali ibn Abi Talib.
However, Al-Sisi's call to renew religious discourse has sparked some controversy, especially among ultra conservative Salafi preachers and groups.
The Islamist political organisation Salafi Front condemned the speech, describing it as "an attack on Islam" that included many "insults" to the religion.
Even the former advisor to the Al-Azhar Imam, Salama Abdel Qawi, was critical of the speech. Abdel Qawi said on the privately owned channel Mekameleen that the speech was "a violation to the religious texts that have been present for years," adding that whoever "denies any of the religion's constants is an infidel, and should be asked to reconsider his thoughts."