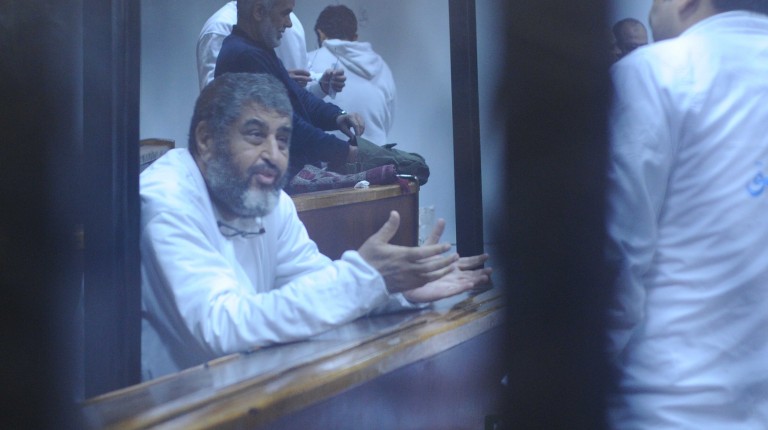 The defence lawyer in the Muslim Brotherhood espionage case requested the merging of the case with the "prison break" trial on Tuesday due to overlapping charges.
Lawyer Kamal Mandour said that the two cases should be merged into one trial to get one court ruling, or there should be a temporary halt of procedures of the embezzlement case until a decision is reached in the prison break case, on the grounds that the charges in the latter are needed to prove the charges in the former, according to state-owned newspaper Al-Ahram.
The accusations in the espionage trial are related to the charges of crossing the Sinai borders, said Mandour, pointing out that the defendants cannot be tried twice for the overlapping charges in the two cases.
Former president Mohamed Morsi and 35 members of the Muslim Brotherhood, including Supreme Guide Mohamed Badie, his deputies Khairat El-Shater and Mahmoud Ezzat, and leaders of the group's political wing the Freedom and Justice Party (FJP) Saad Al-Katatni, Mohamed Al-Beltagy and Essam El-Erian are all defendants in the espionage trial.
The defendants are accused of organising "a plot" with the aid of groups, including Palestinian Islamist group Hamas and Lebanese militant group Hezbollah. They also face charges of disclosing national security secrets, funding terrorism, and coordination with jihadist organisations inside and outside Egypt to execute terrorist operations in the country.
The same high-profile Muslim Brotherhood members are among 130 other defendants charged with escaping from Wadi El-Natrun Prison on 29 January 2011, during the first days of the 25 January Revolution.
The defendants are accused of damaging and setting fire to prison buildings, murder, attempted murder, and looting prison weapons depots at three separate Egyptian prisons.
Prosecution investigations have claimed that the prison break occurred when 800 heavily armed foreigners affiliated with Hamas and Hezbollah entered Egypt from Gaza through tunnels. The group was later divided to fragments to attack Wadi El-Natrun Prison in Beheira governorate and Abou Zaabal and Al-Marg prisons Cairo.
The group is accused of killing over 50 policemen and prisoners, freeing another 20,000 prisoners, vandalising and stealing police equipment.