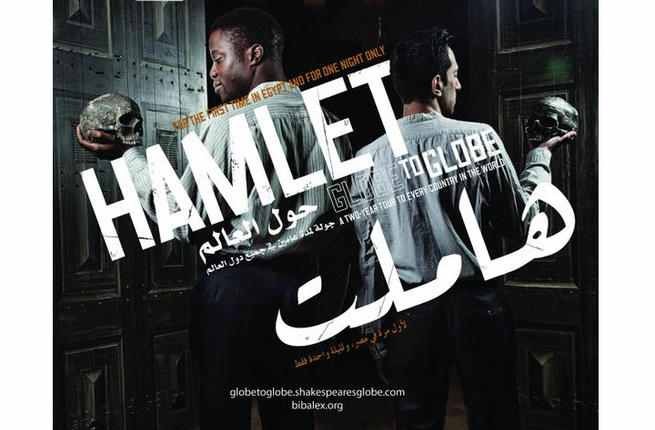 Dignitaries, foreigners, locals and plenty of students came together to catch a once in lifetime performance – the renowned London-based Globe Theatre, for one night only, performed Hamlet in the Alexandria Library.
The famous British theatre, with a cast of 12 members, has set on a two-year world tour performing one of Shakespeare's most popular tragedies, Hamlet. The goal is to travel to 200 countries, with already 99,418km travelled, and Egypt marked the Globe's 67th country.
The beautiful Alexandria Library, with its majestic granite walls, set in the city that Alexander the Great founded, was the perfect setting for Shakespeare's timeless masterpiece. The tickets for the show ranged from EGP 50 to EGP 100, with students enjoying a half-off discount. The show was sold out four hours before curtain rise.
The Hamlet tour started in April 2014 marking the 450th anniversary of the bard's birth, and is set to end in April 2016. The performance in Egypt "is part of the chain of Africa tour", says Tamsin Mehta, the production's associate producer. On 10 January, the tour was in Carthage, Tunisia in the Saint Louis Cathedral, and after one day of travel they were back at it again in Alexandria. The troupe's next show will be in Asmara, Etritrea.
Many people told Daily News Egypt after the show that though they are enjoyed the show the only hang up some had was the language.
"It was fun, but of course the English was very difficult, but we got the idea" said Hala Mohammed Youseff, a 21-year-old student. When asked why she came to watch the show Youseff says: "I am familiar with Shakespeare and I had to see a play that is known worldwide."