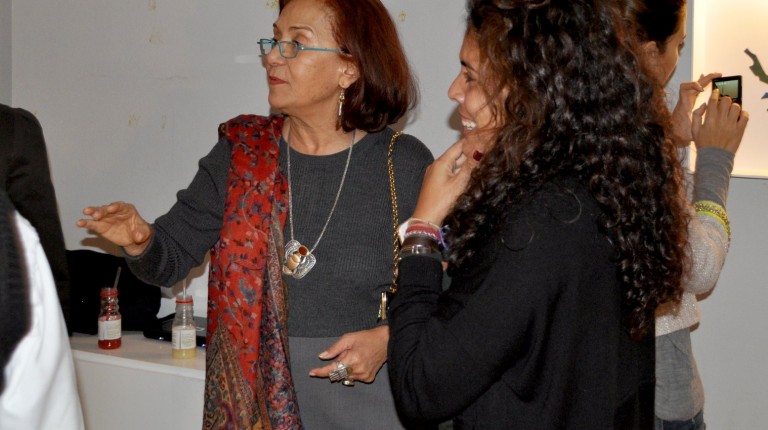 Last week when a very heavy sandstorm hit Egypt causing everyone to hide in their houses, Azza Fahmy's Design Studio created a one of a kind cultural mix to challenge the difficulty of the weather.
In a wide round hall at the British Council in Cairo, where the Toktok was the centre of the event, the jewellery  Azza Fahmy's  students designed and created were shown.
Azza Fahmy is one of Egypt's best advocates in the world of jewellery. Accordingly, her design school aims to follow her steps and spread the local culture.
In an attempt to artistically meld two different societies, the Design Studio and Cass Faculty of Art, Architecture and Design created a never-seen-before programme called "Tandemize".
"Tandemize" is an exchange programme and exhibition aspiring to narrowing the design gabs between Cairo and London.
Three students from the class flew all the way from London to Cairo in order to experience Egypt's artistic scene while three of the Design Studio's extraordinary talents went to London in return. That would allow each part to know the deepest details of designing the jewellery in each country.
For six months, the six students were mentored by professors to learn about the two countries' techniques and culture. Finally the students were ready to share their creations with the rest of the world.
The proud young designers showcased their extravagant designs at the British Council in a rather creative way as the exhibition revolved around modern and local, Egypt and Britain. The student's masterpieces were scattered around the "Toktok" to gain as much attention as possible as they were glamorously designed.
There products were a result of a heavy training and intense courses of teaching at Fahmy's private, and only, school for designing jewellery.
Azza Fahmy, Egypt's jewellery master has been a true pathfinder for the past 45 years. With stores all around the country and a major specialised factory, the designer is certainly the most famous in the region.
She represents the Egyptian identity in all of her work. Her most famous collections are the "Nuby" which shaped jewellery trends back in the 80s, the "Pharaonic" that was seen on many local and international stars, the "Calligraphic" which started the Arabic-names craze, and finally her latest collection which is based on Egypt's most prominent singer Umm Kalthoum.
Fahmy didn't have an easy way growing up as a designer. After such a long journey in the world of calligraphy, precious stones and silver, she finally added mentor and teacher to her long resume. The design studio is Fahmy's very own school where everyone has the golden chance to become the next big thing.