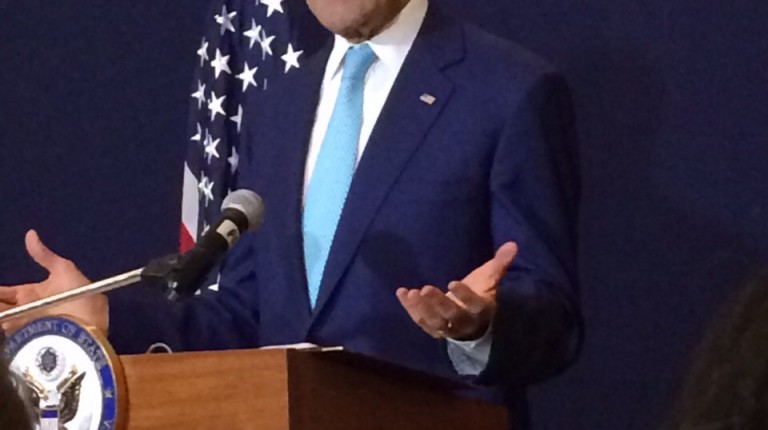 US Secretary of State John Kerry said he is in Egypt to express US support for Egypt, as it undertakes significant reforms and works for the economic transformation desired by Egyptians
"The US is committed to strengthen its partnership with Egypt and we have been working hard for that over the last years," Kerry said during a Saturday press conference at the Economic Summit in Sharm El-Sheikh.
How Egypt develops, succeeds, and restructures in the coming years will not only affect Egypt's population, but will also have a profound impact on the entire region, Kerry believes.
Egypt is moving forward along the road of democratic aspirations and "is strategically important to this region [and] to those looking for stability, better standard of living, inclusivity and participation by citizens", Kerry said. He added that the US will remain committed to making sure Egypt can achieve democracy.
Kerry added he has met with a range of US businessmen recently to discuss their specific concerns. He also had a "constructive conversation" with Egyptian President Abdel Fattah Al-Sisi and Foreign Minister Sameh Shoukry on improving the business climate. "In some cases they have already made the decision and need implementation. In other cases they still need legislation," he stated.
"The Egypt Economic Conference underscores the deep support for Egypt and the shared votes for Egypt," Kerry said.
Kerry announced that the US is providing hundreds of millions of dollars to small enterprises and start-ups, as well as over 20% of its foreign investment (approximately $2.2m) to Egypt.
"We applaud the significant countries which have put large sums of money on the table," he said, adding that Egypt needs to keep injecting capital and providing jobs for a sustainable economy.
Kerry also discussed with Al-Sisi and Shoukry the importance of respect for human rights, a free press, and free speech, saying that they make Egypt stronger and more stable with an independent civil society.
Their talks went on to include Egypt's role in the international coalition led by the US against the Islamic State (IS) and extremism in the region. He condemned the murder of 20 Egyptian Copts in Libya in February.
He said that the US supports Egyptian efforts in combating terrorism in the Sinai Peninsula and throughout the country.
"These atrocities cannot be rationalised…They must be exposed and stopped," Kerry said.
Kerry disclosed that he had met with Palestinian President Mahmoud Abbas and Al-Sisi in a side meeting during the conference. He said this "underscores the powerful connection between investments in business and investments in peace" over developing a healthy sustainable private sector Palestinian economy.
With the coming Israeli elections, Kerry highlighted that President Obama remains committed to peace solutions for the Palestinian-Israeli conflict, no matter who wins.
Kerry also stressed that Obama refuses that Iran acquires a nuclear weapon. While the Iranian Supreme Guide had expressed that Iran does not want one, a notion welcomed by the US, this needs to be translated into a legal framework.
"The US needs guarantees that the nuclear power would be peaceful," Kerry said.