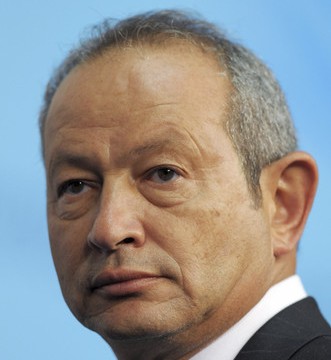 The Cairo Criminal Court resumed Wednesday the retrial of Al Jazeera English journalists Mohamed Fahmy and Baher Mohamed at Tora Police Institute. The retrial saw business and media tycoon Naguib Sawiris testify in favour of Canadian journalist Fahmy.
The court adjourned the case to 28 April session, while the session saw Sawiris testifying as a defence witness.
Sawiris said before the court that he knows Fahmy personally after a number of interviews and talks between him and the former CNN correspondent, state-run newspaper Al-Ahram reported.
"I can be absolutely certain that Mohamed Fahmy, based on my knowledge of him, doesn't belong to the Muslim Brotherhood, and according to my information he participated in the 25 January Revolution and was supportive of the 30 June revolution that toppled the Brotherhood," Sawiris stated.
In the 25 March session, the court ordered a new technical committee to look into video content that is supposed to be evidence against the defendants.
The court said Wednesday that the new committee's report will be revealed in the next session.
Fahmy was handed a temporary new Canadian passport by the Canadian ambassador before the start of the retrial. His original one was seized by the Egyptian authorities upon his arrest.
The Al Jazeera journalists are facing a retrial after they were initially sentenced to 7 and 10 years in prison last June. In January, Egypt's Court of Cassation accepted an appeal filed in the case ordering a retrial.
Three Al Jazeera journalists, Australian Peter Greste, Canadian-Egyptian Fahmy and Egyptian Baher, were arrested in December 2013 and accused of conspiring with the Muslim Brotherhood against Egypt.
Greste was released and deported at the beginning of February. The remaining journalists had to wait until 12 February, however, when the Criminal Court decided to release all the defendants on bail, with Fahmy giving up his Egyptian nationality in a bid to help his release.