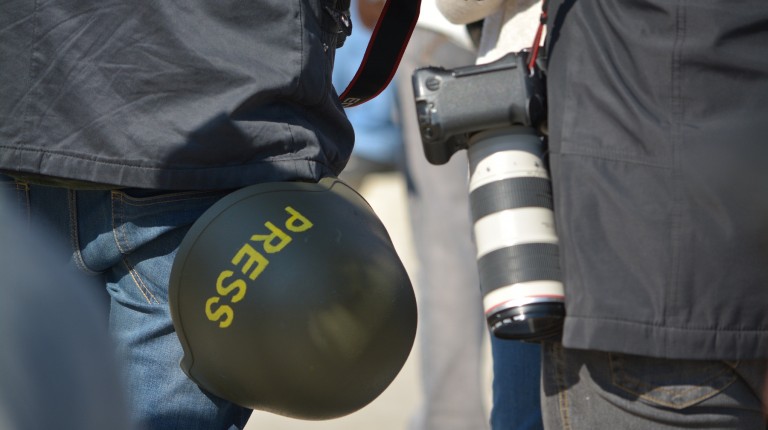 Coinciding with Press Freedom Day, Amnesty International has emphasised the ongoing "dangers of media reporting" in Egypt, in a statement published Sunday morning.
The prominent international rights group highlighted that the conditions of being a journalist remain dangerous and politically sensitive. The group referred to six journalists who have been killed by security forces and in clashes while covering protests since the ouster of former president Mohamed Morsi in July 2013. Amnesty International also emphasised the common arbitrary arrests and imprisonments of journalists under President Abdel Fattah Al-Sisi's regime.
"In Egypt today, anyone who challenges the authorities' official narrative, criticizes the government or exposes human rights violations is at risk of being tossed into a jail cell, often to be held indefinitely without charge or trial or face prosecution on trumped-up charges," said Philip Luther, Director of the Middle East and North Africa Programme at Amnesty International.
Since July 2013, courts have imprisoned journalists on "trumped-up" charges, including "belonging to a banned group", "spreading false news, information or rumours" and "inciting violence", among others.
According to Amnesty International, defence lawyers frequently report that there was no incriminating evidence against their clients, with courts handing down sentences based "solely on the testimonies and investigations of the security forces" and Ministry of Interior investigations.
The group calls on the Egyptian authorities to release journalists detained solely for their work, "for peacefully exercising their right to freedom of expression". It also called for the release of journalists detained on charges of "spreading false news, information or rumours".
"While the detention and prosecution of the three Al Jazeera journalists Peter Greste, Mohamed Fahmy and Baher Mohamed made international headlines, out of the spotlight many other local journalists are languishing in jail or being punished or harassed for speaking out. Any journalist detained solely for their journalistic work must be released immediately and unconditionally," the statement continues.