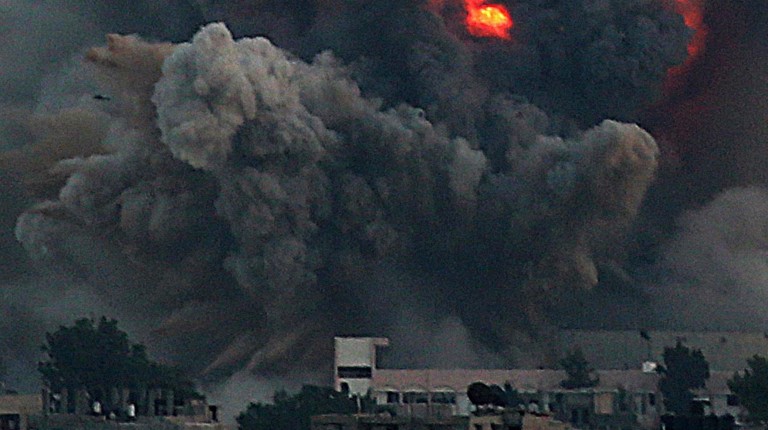 One police conscript was killed in clashes Tuesday night between anti-government protesters and riot police in Damietta, while 13 female protests were arrested, the Interior Ministry announced.
The ministry added that clashes took place as alleged members of the now banned Muslim Brotherhood organised a protest in Sror Square. During the clashes, a human shield of 70 female protesters was formed, chanting against the police and the army.
Protesters fired at the security forces using birdshots and live rounds, killing one conscript and injuring two others, a ministry representative from the media office said. A total of 21 were arrested, 13 of whom were females, some in possession of weapons.
The Ministry of Health said the clashes left 22 injured.
A Damietta resident said that the demonstration took place after the arrest of a prominent Muslim Brotherhood leader.
Following the clashes, police forces raided several houses of individuals suspected of participating in the violence. A protester who participated in the violence said that thugs were helping the police in the dispersal of the protest. He added that some residents in the village participated in turning the protesters in to the police.
The protester added that more than 30 houses were raided by the police, adding: "Riot police surrounded the village of Al-Basartah with armoured cars and policemen in plain clothes."
Al-Basartah village is said to be a 'Muslim Brotherhood stronghold', with minor protests held in the streets of the villages almost every Friday.
On Wednesday, the ministry announced it had arrested the perpetrators of the police conscript's killing.
Egyptian police have been engaging in weekly clashes with Brotherhood and pro-Morsi affiliates. However, this resistance has been weakening.
With the exception of some villages and districts, which remain resilient against the regime, anti-government protests have decreased, following a massive crackdown by the police on any protest.
Protesting has become illegal in Egypt without prior permission from the Ministry of Interior. Hundreds of protesters, activists, and students are facing prison sentences on charges of defying this law. According to Article 12 of the Protest Law related to the dispersal of a public assembly, security forces are to issue several verbal warning using a microphone before physically interfering to disperse a protest.
However, many activists and protesters say riot police often start dispersing protests by using tear gas and birdshots.
Since the ouster of former president Mohamed Morsi, a number of villages, known to have a considerable number of Morsi supporters, have been raided.
One of them is the El-Maymoun village in Beni Suef, which was raided November of last year.
The most prominent village that was raided was Kerdasa, where heavy armoured riot police surrounded the village arresting tens of civilians.