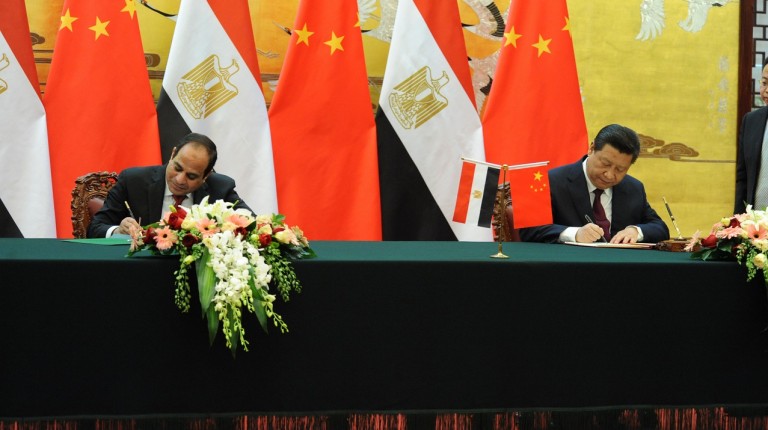 During a bilateral meeting following Russia's Victory Day celebrations, Chinese President Xi Jinping extended an invitation to Egypt's Abdel Fattah Al-Sisi to visit Beijing in September.
Al-Sisi arrived in Moscow Friday to take part in Victory Day's 70th anniversary celebrations, which took place with a marked absence of Western presidents.
Egypt's president stated that he looked forward to Xi's visit to Egypt, which will give impetus to bilateral relations in various fields between the two countries.
Xi highlighted Al-Sisi's successful visit to China in December 2014, and stressed the importance of implementing the strategic cooperation plan promoting bilateral relations, according to a presidential statement.
Al-Sisi's first visit outside the Middle East following his inauguration was to China, where he gave a speech before the Egyptian-Chinese Business Council. During his speech, Al-Sisi invited Chinese investors and companies to actively participate in the Economic Summit that took place in Sharm El-Sheikh last March.
Following the Victory Day celebrations, Al-Sisi met with Russian President Vladimir Putin and officially invited him to attend the inauguration of the New Suez Canal Project, expected to be held in August. The two presidents also discussed the establishment of a free trade zone between Egypt and the Eurasian Customs Union (EACU), as well as the development of mutual trade and agricultural business.
Al-Sisi also met with Palestinian President Mahmoud Abbas, in addition to presidents of other countries, including Kazakhstan, Mongolia, the Czech Republic, India, Venezuela, Vietnam, Armenia, China and Tajikistan.
During his meeting with Vietnamese President Truong Tan Sang, the presidents agreed on a joint committee during the third quarter of 2015. This would consider the various proposals aimed at promoting trade and economic exchange between the two countries, so that Egypt would make use of Vietnam as a gateway for Egyptian products to the rest of Southeast Asia and ASEAN countries.
Vietnam would also benefit from Egypt due to its proximity to European, African and Arab export markets. The two sides also agreed to continue strengthening bilateral cooperation in international forums, as well asthe coordination of common concern about international issues.
Armenian President Serzh Sargsyan accepted Al-Sisi's invitation to attend the inauguration of the New Suez Canal Project. During a bilateral meeting, Sargsyan expressed appreciation of Egypt's having hosted an Armenian community for years. Al-Sisi pointed out that this community is an important component within Egypt, according to a presidential statement.
The Armenian President also invited his Egyptian counterpart to visit Armenia in order strengthen relations between the two countries.
Although Egypt has not officially recognised the mass killings committed by the Ottomans against Armenians as a "genocide", Pope Tawadros II attended the 100th anniversary of the killings on 24 April.
Al-Ahram Center for Strategic Studies' Mohamed Abdel Qader had previously told Daily News Egypt that Egypt is currently moving towards the East. Opening up to Eastern countries does not mean closing doors in the face of the West, Abdel Qader asserted. "It is part of a consistent strategic plan," he said.
Egypt hopes to broaden its foreign relations in all directions, including all major and emerging global powers, he stated.