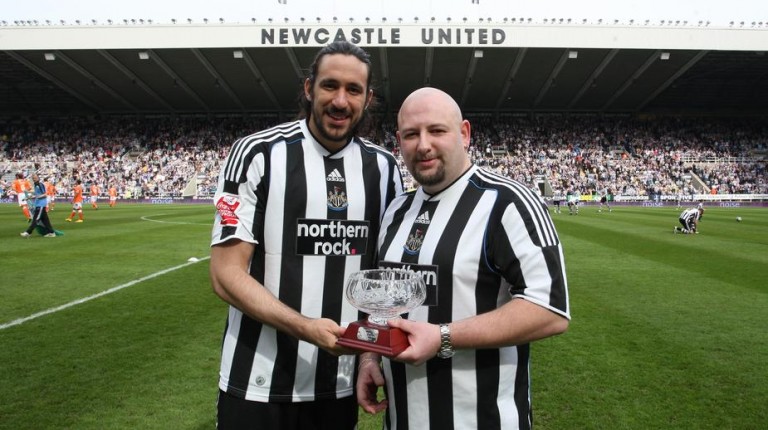 In 2013, the Argentine player Jonás Gutiérrez discovered his testicular cancer, after feeling severe pain during a match with his team, Newcastle United, against Arsenal.
The midfielder did not give up, however, and received chemotherapy after undergoing surgery. In the beginning, he was cured, as it appeared that time. However, after he was loaned to English team Norwich City at the beginning of 2014, he was surprised by the disease moving to his liver and lymph glands – but the stubborn Argentine again refused to give up. He kept receiving treatment secretly in the beginning, until the issue was announced. His recovery was assured last November, before returning to his fellow players in Newcastle United in March 2015.
Since he returned from his illness, the 31-year-old player participated in 10 matches with Newcastle United this season, in which he was in the starting lineup in six. He scored a single goal in the team's last match against West Ham United. His team won 2-0, guaranteeing their stay in the Premier League for another season.
That goal stood as the announcement of Gutiérrez's success in defeating the disease.
The present legend of Argentina, Lionel Messi, star of Spanish team Barcelona, shared Jonás's picture last March, at the time of his return to the field commenting: "How amazing it is to see you back on the pitch, Jonás".
The Argentine champion was not the first player to succeed in defeating cancer, and definitely will not be the last. Barcelona's French player, Éric Abidal, came before Gutiérrez, when he returned to the field after undergoing a liver transplant as a result of cancer. A lot of people believed that the return of Abidal was the miracle of miracles.
Lately, the international Tunisian player, Walid Hichri, player of Tunisian teams Espérance de Tunis and Avenir Sportif de la Marsa, announced that he had cancer. Hichri also received treatment, and returned to field after that.
José Molina, goal-keeper for Spanish teams Valencia, Atlético Madrid, Deportivo de La Coruña and Villarreal, was diagnosed with bladder cancer in 2002. He missed a full season to receive treatment, and returned to continue his career in 2006, after he was cured.
Other big names suffered from cancer, like the late Tito Vilanova, Barcelona's trainer, who was diagnosed with cancer and treated, before his health condition deteriorated. He was a stubborn fighter of the disease while leading the Catalan team.