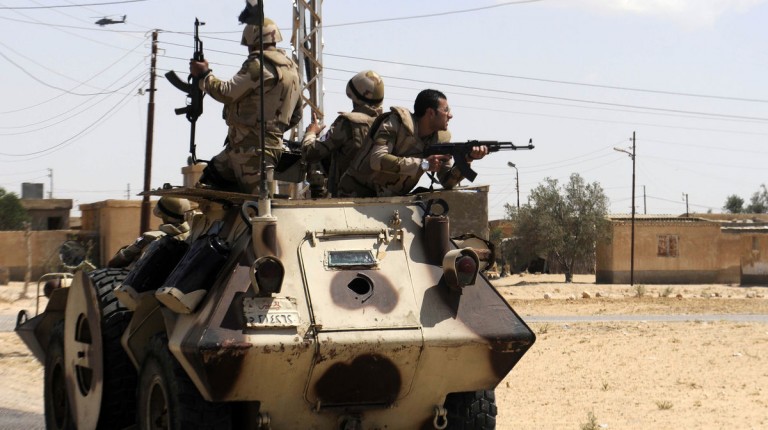 At least 141 terrorists were killed in armed clashes with military forces in North Sinai throughout the month of May, the armed forces announced in a monthly report released Tuesday.
Furthermore, nearly 393 people have been arrested either on suspicion of terrorism or wanted suspects. The army released the names of the "top terrorist elements": Walid Ibrahim, Ahmed Fayez Barhoum, Abdul Aziz Ramadan were killed, while Sabry Al-Ghoul, a leading Muslim Brotherhood figure according to the army, was arrested.
The highest numbers of killings and arrests resulting from security raids took place in the city of Al-Arish, followed by Rafah, and Sheikh Zuweid.
Military operations also included seizing and destroying 347 cars and motorcycles "used in terrorist attacks on security forces", as well as the destruction of locations allegedly used as centres by terrorist groups, such as underground tunnels and abandoned houses.
The report was published on the official Facebook page of the military, with pictures depicting blood, bodies, and seized explosives.
As for the types of explosives found, they included gallons of polyethylene used for rocket fuelling, nitrate phosphate used to prepare bombs, automatic and other types of rifles and guns, in addition to weapons and ammunition stores, the army said.
On another note, the army published a letter Sunday, claiming it was found in a security raid and was written by a terrorist to express regret at his actions and those of terrorist organisations.
"I ask God for forgiveness for all the innocent people I killed in the name of religion and under the pretext that they were enemies of God," read the published letter.
The situation in North Sinai remains unstable for the military and local residents. Imposed curfew hours have been extended by the government until July. The area remains largely uncovered in the media, except for a few local reporters, the army's statements on one hand, and reports by Twitter accounts that are allegedly affiliated with extremist groups, such as the "State of Sinai".