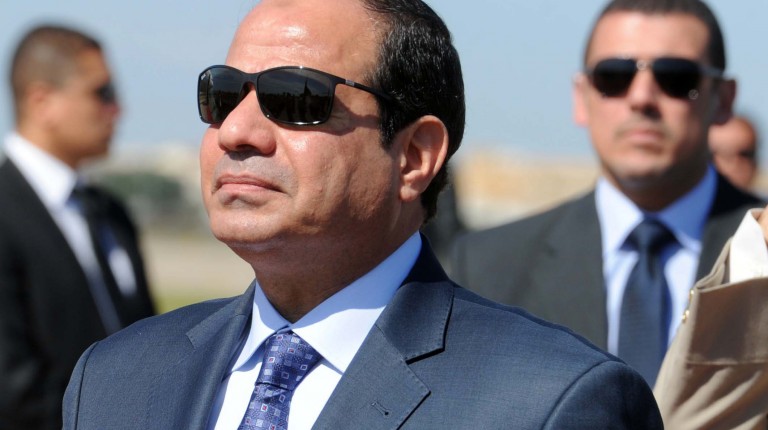 Prime Minister Ibrahim Mehleb arrived Saturday in Johannesburg to head Egypt's delegation to the African Union Summit in the place of President Abdel Fattah Al-Sisi.
Al-Sisi cancelled his visit and delegated Mehleb on Thursday after the South African Muslim Lawyers Association (MLA) filed an official request for his arrest.
"We asked [South African] authorities if they would arrest Al-Sisi on arrival. They did not say no, but they did not say yes either," MLA attorney Yousha Tayob told Daily News Egypt.
There is a law in South Africa which allows us to arrest and prosecute "international war criminals", and Al-Sisi is knows that he is one, Tayob asserted, saying that this is one of the concerns over which the Egyptian president canceled his visit.
In response to inquiries regarding the provisions of the Egyptian judiciary, Foreign Minister Sameh Shoukry said Friday on the South African Broadcasting Corporation that South Africans ought to trust in the Egyptian judicial system and its neutrality, "just as the Egyptians trust in the credibility of the South African judiciary".
Had Al-Sisi come and not been arrested, the MLA would have gone to court for an urgent court order to get the Egyptian president arrested, Toyab said. Tayob stated that the legal case was filed in November 2013 following the violent dispersal of the pro-Mohamed Morsi sit-in at Rabaa Al-Adaweya Square in August of the same year, where "war crimes and crimes against humanity were committed". Human Rights Watch confirmed the deaths of 817 protesters in dispersal of the Rabaa Al-Adaweya sit-in.
One of the four complaints and testimonies the MLA referred to in the case was that of prominent Muslim Brotherhood leader Mohamed Al-Beltagy, whose daughter died during the dispersal. However, Toyab said that the MLA is not affiliated with the Brotherhood.
The South African government further regarded the ouster of Morsi on 3 July 2013 as a coup, bringing Al-Sisi to power, but they stepped down from their position to maintain economic relations with Egypt, Tayob said.
The MLA, founded in 2007, renders legal services and advice to Muslims, locally, nationally and internationally, on issues affecting such Muslim persons and/or Muslim organisations.
In June 2013, the legal organisation attempted to get US President Barack Obama arrested for the same accusations.
Al-Sisi was scheduled to attend the 25th African Union Summit, entitled "Enabling African Women", taking place on Sunday and Monday.
Mehleb is to give two speeches, one discussing women's empowerment in the African continent, and one presenting Egypt's climate change report.
Egypt has held the chair of the African Union's climate change committee since January.