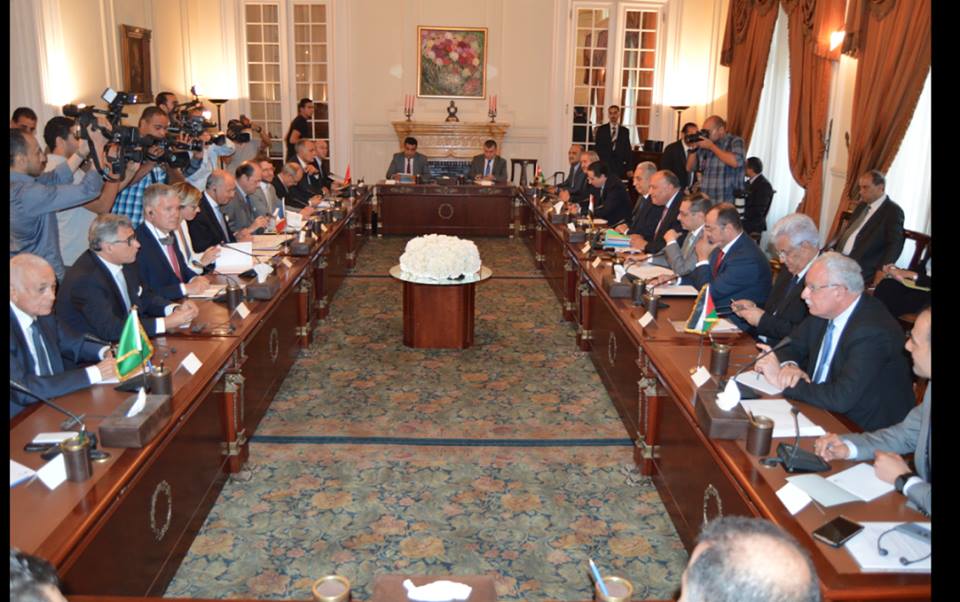 By Tim Nanns
President Abdel Fattah Al-Sisi and Foreign Minister Sameh Shoukry met with French Foreign Minister Laurent Fabius on Saturday to discuss bilateral relations and regional issues.
During the meeting, the ministers discussed, in particular, the new Middle East peace initiative, driven mainly by France, according to Foreign Ministry spokesperson Badr Abdelatty.
After the initial meeting with Shoukry, Al-Sisi and Shoukry went on to their meeting with Fabius, reaffirming Egypt's commitment to the establishment of a Palestinian state based on the 1967 borders, with East Jerusalem as its capital.
Fabius also attended a meeting of the Arab Ministerial Committee, consisting of the Foreign Ministers of Egypt, Jordan and Morocco, as well as Arab League Secretary General Nabil El-Araby. Fabius presented the new proposal, which includes setting a timeframe of 18 months to find a comprehensive solution to the Palestinian issue.
At the meeting in Sharm El-Sheikh, Shoukry stressed the need to "establish clear criteria and a timetable for the peace process". This would be with the aim of ending "the occupation and establish a sovereign, independent and viable Palestinian state".
Last December, the United Nations Security Council rejected a Palestinian proposal, which featured a two-year timeframe. At the time, Fabius drafted a more moderate proposal which was rejected by Palestinian President Mahmoud Abbas, pushing France to eventually vote in favour of the Palestinian version.
Also in December, France's lower house of parliament voted to recognise the Palestinian state.
While Fabius warned the current situation was about to set the conflict ablaze, according to Reuters news agency, Benyamin Netanyahu denounced any "international proposals they are trying to force upon us".
In addition to the Palestinian case and bilateral relations, the meeting between Shoukry and Fabius revolved around other Middle Eastern issues, like Syria, the Yemen conflict, as well as the situation in Libya, according to Abdelatty.
Concerning Libya, the two foreign ministers renewed their commitment to support UN envoy Bernardino Leon in his efforts to establish a "national unity government able to confront terrorism as well as the issue of migration". They also discussed Syria "to reach a political solution […] and stop the killing of civilians". However, in neither case did they announce any new steps to resolve the crisis.