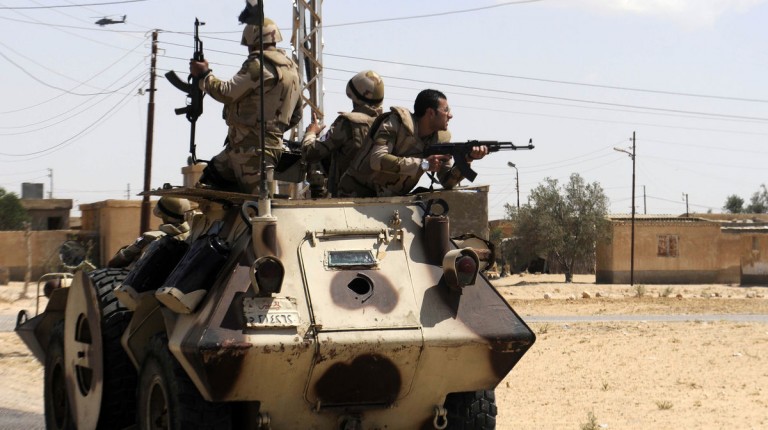 An improvised explosive device (IED) exploded on the outskirts of Al-Arish in the North Sinai governorate Tuesday, according to state-owned newspaper Al-Ahram.
There were no injuries, according to state media. Security sources said that a sweep of the area would be launched to search for any explosives targeting security forces.
Meanwhile, a total of 22 alleged extremists were killed Monday near a mosque in Sheikh Zuweid in the North Sinai governorate, according to several media outlets, quoting unnamed security sources.
The 'extremists' were suspected of plotting to carry out attacks on security checkpoints in the region.
On Monday, security sources reported eight people were injured, some of whom are security officials, in explosions targeting two houses in Al-Arish.
The security sources added that extremists who are active in the region planted two IEDs in the houses, occupied by police officers, and later detonated them.
The explosion reportedly caused large sections of the houses to collapse, resulting in the injury of three police officers and five civilians.
In related news, former head of North Sinai Intelligence Directorate, General Hisham Darwish, was relocated to head the newly formed New Suez Canal Axis Directorate. He was replaced by General Ibrahim Salama to head the North Sinai Intelligence Directorate.
Egypt has been engaged in a war on terror in the North Sinai region since mid-2011. Violence by extremist militants grew in the region following the 2011 uprising to remove Hosni Mubarak.
Violence surged significantly when then-general, now President Abdel Fattah El-Sisi removed Mohamed Morsi of the Muslim Brotherhood from office, following mass protests against his turbulent one-year rule.
The Egyptian government blames the violence on the Muslim Brotherhood, which it branded a terrorist organisation last year. The group denies its involvement and insists it is committed to peaceful forms of resistance.
Much of the violence has been claimed by an extremist group which was known as Ansar Beit Al-Maqdis (the Partisans of Jerusalem). The group now calls itself 'State of Sinai', after it pledged allegiance to the regional extremists group "Islamic State".