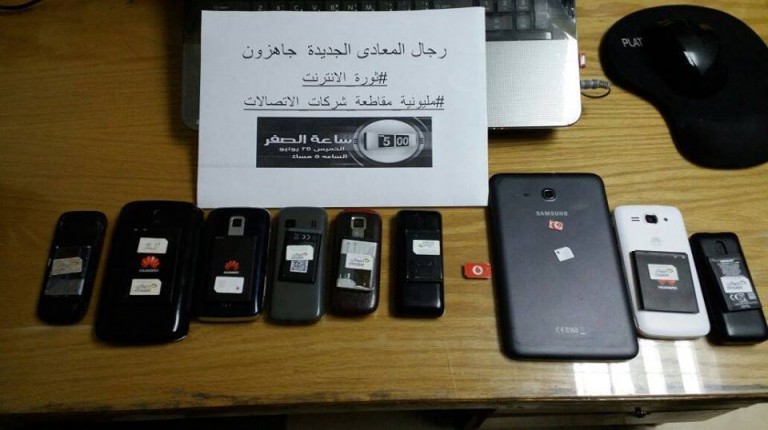 By Mohamed Alaa El-Din
The 'Internet Revolution' movement has escalated its campaign against the three mobile companies, Vodafone, Mobinil, and Etisalat, over the low quality of services.
This comes as part of the  'Million-Man Protest of Boycotting Communication Companies' campaign that was launched on Thursday. According to an official in the movement, the new campaign aims to create financial losses for the mobile companies on a daily basis, in objection to the low-quality of the networks' performance.
This phase of the campaign also targeted Internet companies and Telecom Egypt, in protest at hefty Internet prices and low-quality services.
According to the official, the new phase's slogan is "Boycotting Everyday", and includes un-following the three mobile companies', the Internet companies' and Telecom Egypt's online accounts on social networks like Facebook and Twitter.
He added that using the networks in a way that does not allow the mobile companies to achieve revenues, by dialling numbers and refraining from taking calls by the other parties, will have a significant negative impact. This plan consumes the network services without allowing the companies to achieve financial returns. The campaign called on participants to dedicate half an hour every week on Mondays.
The official, who preferred to remain anonymous, also disclosed that a surprise is being prepared for next Thursday within the boycotting campaign against the communication companies. He asserted that it will have great impact, and will be under the name of "Let's Drop Our Network". The step will be disclosed to the public on Wednesday evening.
The 'Internet Revolution' movement began its first boycott campaign steps against the mobile and communication companies last Thursday. They called on users to switch-off their mobile phones for five hours in objection to the quality of the services offered to the customers. The campaign's hash tag has topped Twitter in Egypt.