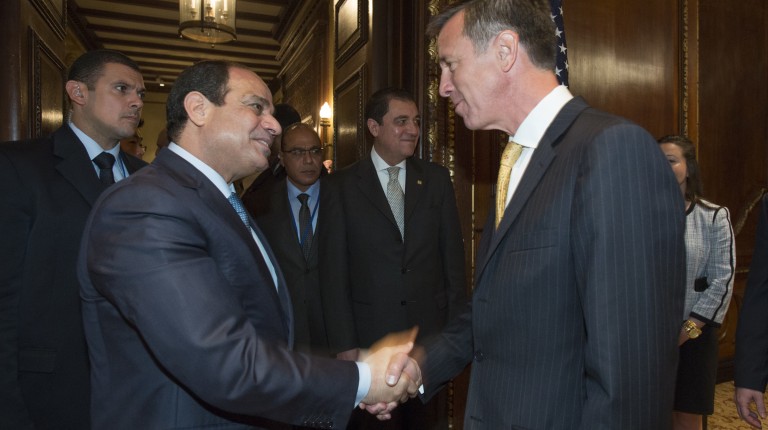 The mother of photojournalist Mahmoud Abou Zeid who has been detained awaiting trial for almost two years has told Daily News Egypt that his health is deteriorating. They are also considering a sit-in to raise further attention to his case.
Abou Zeid, commonly known as Shawkan, is suffering from Hepatitis-C, according to his mother. She said that, whilst the 27-year-old suffered from the disease prior to his detention, he has been denied appropriate medical treatment.
"He is pale, looking very ill," she said.
The family have announced that they will begin a sit-in at Cairo's journalist syndicate, calling for his release.
On 20 June, the Cairo Criminal Court renewed the pre-trial detention of the photojournalist for a further 45 days.
Abou Zeid has been detained with 300 others for almost two years without trial. He was arrested while covering the security forces' dispersal of pro-Muslim Brotherhood sit-ins in August 2013.
In a letter from prison to the newly elected head of the syndicate Yehia Qallash, Abou Zeid said: "My body sweats continuously, losing consciousness for few minutes [has become] a habit on daily basis, my weak body, full of disease became helpless to me to continue bearing hard imprisonment for two years without any guilt except bearing my camera to shoot events…Death is better than what I am suffering inside my prison."
Shawkan ended his letter by saying to Qallash: "I told you how I am living in death inside my prison, so that you can imagine how other colleagues suffer inside their prisons do. I am not asking you to care about my situation, my health or my case. I ask you to care about cases of other colleague journalists."
On Sunday, during a protest in support of Abou Zeid at the Press Syndicate, Qallash responded saying the syndicate is preparing a detailed list to send to the presidency of detained journalists. Abou Zeid's name will also be on the list. Qallash also told reporters that he will follow up on Shawkan's case, and expressed his solidarity with detained journalists.
In May, for the first time, Abou Zeid appeared before a judge to be arraigned, the judge renewed his detention. He still has not officially been charged with any crime.
"It is without logic, without a trial and lawless. Simply, an accusation on a piece of paper has jailed me without an investigation. Time passes and years are wasted between these four walls," the photojournalist wrote in a previous letter from prison.
On Thursday, the Committee to Protect Journalists (CPJ) said it discovered that Egyptian authorities were holding at least 18 journalists behind bars for their reporting. It said that was the highest in the country since the CPJ began recording data on imprisoned journalists in 1990.
However, some local journalists including Khaled El-Belshy, head of the freedoms committee at the Press Syndicate, believes the figure is closer to 30. The CPJ reported last year that around 12 journalists were detained in 2014. This year, alone, a reported 18 journalists were sentenced during the 'Rabaa operations room' case, including Waleed Abdel-Raouf Shalabi, a writer for the Freedom and Justice Party newspaper who was given a death sentence on charges including spreading false information about the state.