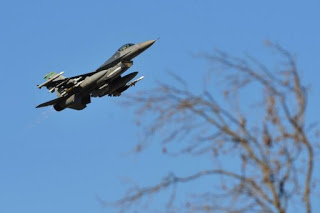 Egypt will receive eight F-16 fighter jets by Friday as part of a $1.3bn US annual military aid package. This comes in light of support for Egypt's intense efforts to confront terrorism, a press release by the US Embassy in Cairo said Thursday.
"Extremists threaten regional security and these weapons systems provide a new tool to help Egypt fight terrorism," commented US Embassy Senior Defense Official in Cairo, Major General Charles Hooper
The F-16 Block 52 aircraft is an advanced fighter jet built in the US state of Texas, and joins the Egyptian military's existing fleet of US-made F-16 aircraft.
Egypt will also be provided with four more F-16s this autumn.
"The F-16s provide a valuable capability that is needed during these times of regional instability," Hooper said.
The US' commitment to a strong relationship with Egypt is demonstrated by continued cooperation and capability sharing between the two countries.
The US has a clearly stated position regarding the continuation of "follow-on support, maintenance, and training for Egyptian Air Force pilots and ground crews".
The strategic partnership with the US is to be further reinforced in a visit by US Secretary of State John Kerry to Cairo on Sunday. During his visit, Kerry will hold dialogue with his Egyptian counterpart Sameh Shoukry.