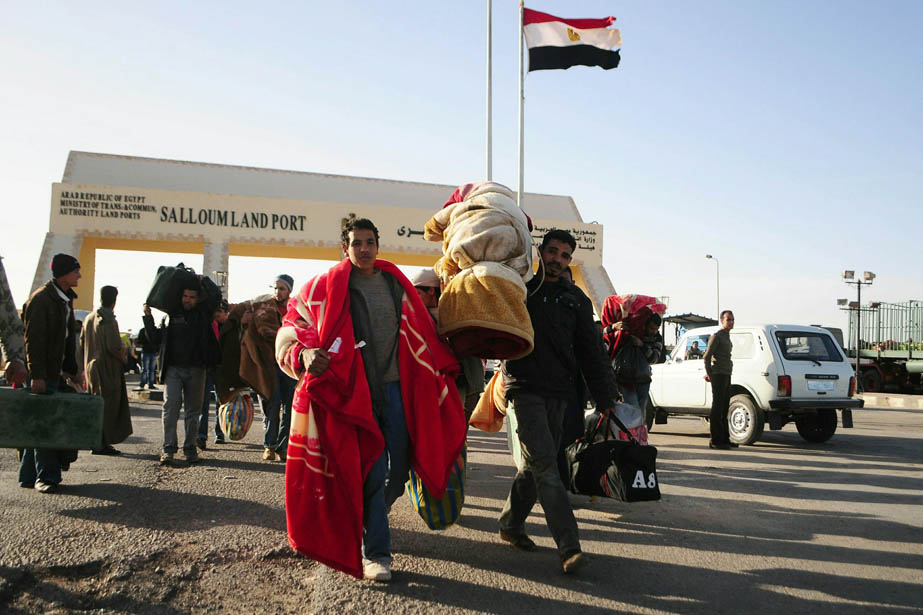 A total of 181 individuals attempting to cross from Egypt to Libya were arrested by border guards near the border town of Salloum, state news quoted the Matruh security directorate as saying, Tuesday.
Matruh's head of security, Anani Hamooda, reported that the majority of arrestees are Egyptian, primarily from the governorates of Minya and Fayoum.
The border area has seen large movements of migrants recently, though authorities have said that the numbers have decreased significantly since Egyptians were targeted in Libya. One of the most notable incidents involving the targeting of Egyptian nationals involved the beheadings of 20 Copts in February in the city of Sirte.
Tuesday's report of 181 arrests is an identical figure to a late-July report from authorities that also reported a figure of 181 migrants arrested attempting to cross the Salloum border. Government figures are often hard to verify in Egypt, and journalists face difficulties in reporting in remote and security-heavy areas.
Earlier in July, 328 illegal immigrants were reportedly caught, including five Sudanese migrants trying to cross to Egypt's neighbour.
Libya is one of the main launching pads for migrants attempting to travel the Mediterranean Sea by boat to live in Europe. The country also still provides many employment opportunities, despite a collapse of state institutions, with Egyptian labourers migrating to Libya to find jobs in the oil-rich nation since the 1970s.
Islamists, including "Islamic State" affiliates and Fajr Libya militants (Libya Dawn), have taken control over a wide range of cities in Libya including Misrata, Benghazi, Sirte, Derna and the capital, Tripoli.
Before the end of Ramadan, Islamic State affiliates in Libya known as the "State of Barqa" published a series of photos featuring alleged Egyptian workers "liberated from bandits" in the Libyan city of Nufaliya.