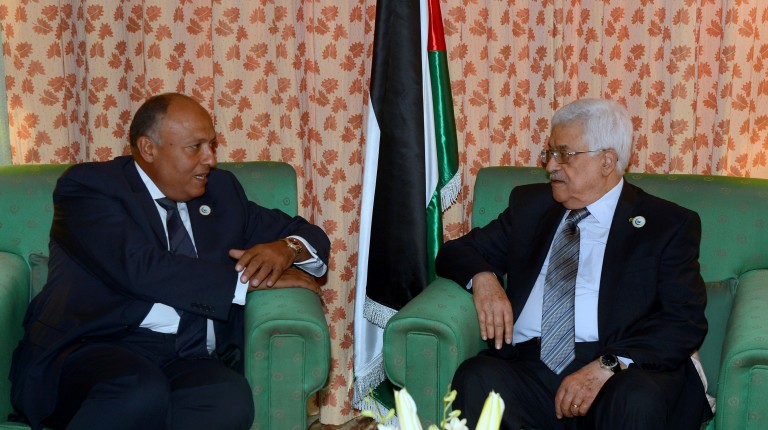 Egyptian Foreign Minister Sameh Shoukry is scheduled to meet Palestinian Authority (PA) President Mahmoud Abbas on Tuesday evening, just days before the New Suez Canal's inauguration on 6 August.
Also on Tuesday, Abbas is scheduled to meet with Arab League Secretary General Nabil El-Araby.
Abbas is among other heads of states who have come to Egypt to attend the inauguration, as per Egypt's invitation.
On 31 July, an 18-month-old Palestinian toddler was burned alive in an arson attack in the Palestinian village of Duma in the West Bank, when Israeli settlers set alight his family home, destroying it. The act sparked international outrage and was condemned strongly by the Egyptian government.
The Palestinian Liberation Organization (PLO) held the Israeli government accountable for the attack, although the Israeli government condemned the attack and blamed it on "Jewish extremists".
The Israeli Information Center for Human Rights in the Occupied Territories, B'Tselem, said in a statement following the attack that the incident "was only a matter of time", since the Israeli government does not enforce laws against Israelis who harm Palestinians.
B'Tselem further described the policy undertaken by Israel as one that "creates impunity for hate crimes". Several similar charges took place over the past three years in the West Bank, without any charges brought forth.
Palestine joined the International Criminal Court (ICC) in April to press "war crime charges" against Israel. The burning of the Palestinian toddler will be brought forth, along with the crimes committed during the Israel-Gaza conflict last year, Abbas previously said.
The conflict lasted for 50 days, and left more than 2,000 Palestinians dead, 10,000 homes partially or completely destroyed, and Gaza's infrastructure completely damaged.
The war was sparked when Palestinian teenager Mohamed Abu Khdeir was burned alive in East Jerusalem days earlier, in response to the abduction and killing of three Israeli teenagers. The incidents resulted in the war on Gaza being triggered.
Egypt brokered a ceasefire agreement between Israel and the Palestinian movement, Hamas, to end the conflict in late August 2014.