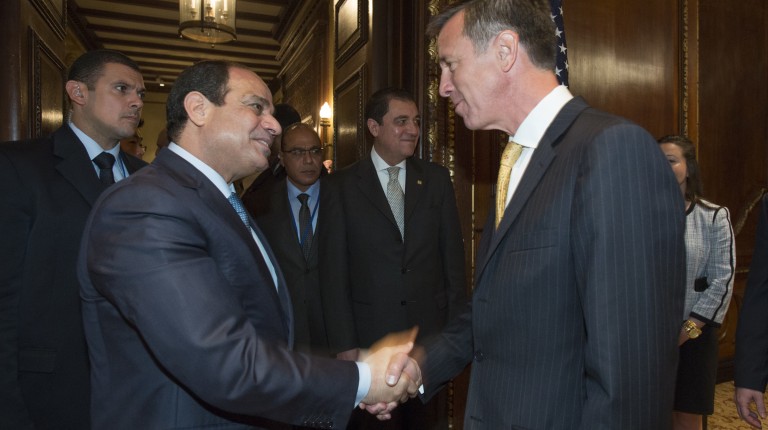 Detained photojournalist Mahmoud Abu Zeid, also known as 'Shawkan', has completed two years behind bars without trial, since his arrest on 14 August 2013. Shawkan was arrested during the forceful dispersal of the pro-Muslim Brotherhood sit-in at Rabaa Al-Adaweya.
At the time, the government relied on the media and welcomed their coverage of the events. This contradicts the fact that Shawkan was arrested while doing his job as a journalist, according to speakers at a Wednesday Press Conference, held in his solidarity.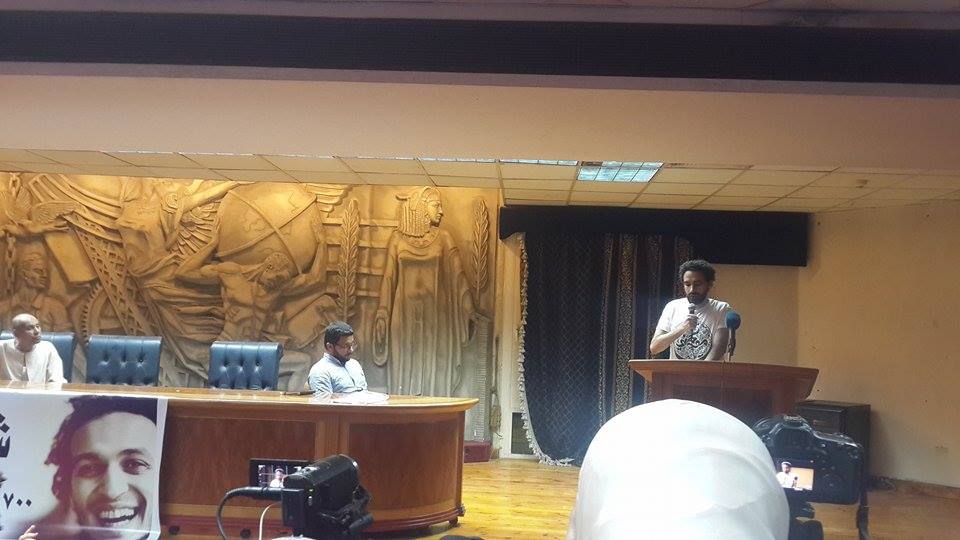 Formerly detained photojournalist Ahmed Gamal Ziada read out a new letter Shawkan wrote from his cell in Tora prison, entitled "700 days in a tomb". In the letter, Shawkan once more appealed for rescue, and called for an official response from the Press Syndicate.
Shawkan is suffering from Hepatitis C, his family claims, and so far, according to his lawyer Karim Abdul Rady, there is no information on where his case stands legally.
"We read a statement issued by the prosecution general authorities regarding the referral of a case which has the same circumstances of Shawkan to court, but when we asked the concerned officials, they were unable to confirm whether indeed it was," Abdul Rady told Daily News Egypt on the sidelines of the press conference.
He added that he has also been told Shawkan's next session, which will see the renewal of his detention, would be held on time. During the press conference, Shawkan's father said his son did not commit crimes or hold weapons, and neither did he even have political tendencies.
On Thursday, members of the Press Syndicate, led by prominent defender of journalist rights Khaled El-Balshy, filed three complaints to the Prosecutor General's office. Foremost of the complaints filed was one demanding Shawkan's release, as he has completed the legal pre-detention period.
The other two requests related to the provision of medical assistance and hospital treatment for detained journalists Magdy Hussein, Editor-in-Chief of Al-Shaab and Youssef Shaaban of Al-Badil. Earlier in the press conference, El-Balshy stated that there are at least 35 journalists currently in prison, either in pre-trial detention or by court verdicts.
Furthermore, El-Balshy said that half of them were imprisoned for publishing crimes. Other charges, such as Shawkan's alleged accusations, include belonging to the Muslim Brotherhood, which has been designated as a terrorist organisation, engaging in public violence, and possession of weapons.
Shawkan's brother, Mohamed, told Daily News Egypt that Shawkan's morale was deeply affected by the long time he has spent in jail and hoping for his quick release. Mostafa Shaat, a rights' researcher, also spoke at the conference on the current situation of journalists and press freedom in Egypt. He said it has declined severely, and that it reflects a clear message about the "regime's oppression", especially referring to their treatment inside and outside prisons.