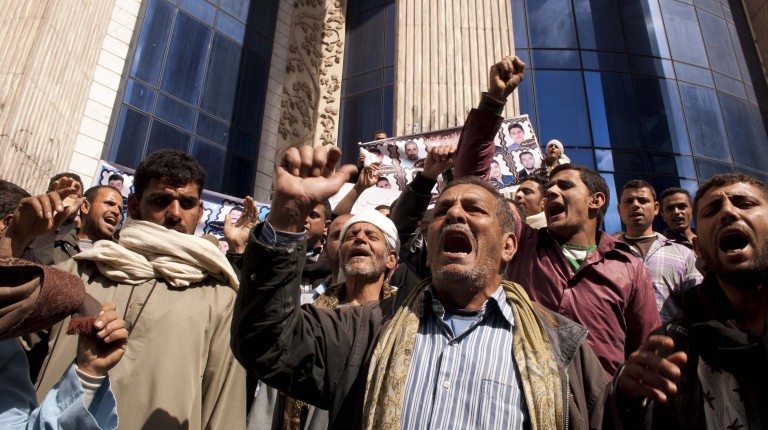 A coalition of labour syndicates and associations that reject the newly applied Civil Service Law announced a million-man protest on 12 September to protest against the law.
Members of the Tadamon coalition that includes 20 labour and employees associations met, Friday, to discuss the updates on the dispute between the government and public sector workers regarding the much-discussed 18/2015 Civil Service Law.
Tadamon called for a protest in Fostat Park in Old Cairo between 10am and 5pm on 12 September. This is to call for the reinstatement of the 47/1978 law, until a committee of government and workers representatives is formed to draft "a fair law that guarantees a safe and stable work environment and wages that fit the needs of the state workers".
The coalition's statement highlighted "obstinacy by the prime minister against the state's civil workers, and the enforcement of a de facto situation".
Prime Minister Ibrahim Mehleb met with representatives of protesting employees from the Customs and Tax Authorities Tuesday to discuss their demands regarding the newly issued Civil Service Law.
At least 2,000 state employees from the two authorities held a demonstration against the law on 10 August, in front of the Press Syndicate in Downtown Cairo.
Mehleb told the representatives that the Civil Service Law came in response to "public demand" from those who complain about the "slackness" and bureaucracy of the government apparatus. He added that it is an important step towards administrative reform.
"There will be no work termination or reduction of salaries," Mehleb said of the new law.
The Civil Service Law was issued in March, shortly before the Economic Summit that was held in Sharm El-Sheikh. The new law presents a new system for salaries, hiring, dismissal and incentives, and affects approximately 6 million public sector employees.
Workers' concerns include that the new law not only reduces the number of public sector workers, but also reduces salaries. They also expressed concern that sector leaders, whom they accused of creating "slackness", are now, according to the new law, assigned to reduce the number of workers.