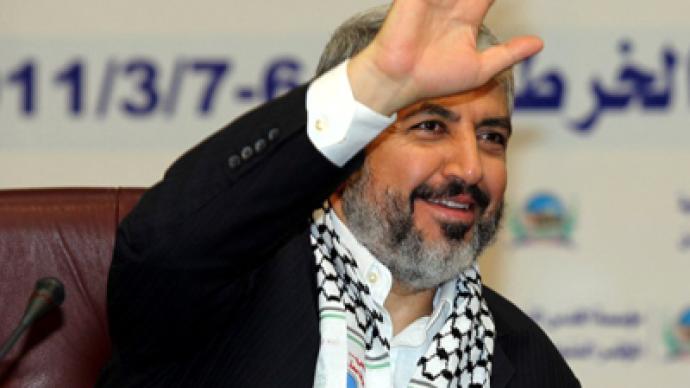 Hamas' relations with Egypt are beginning to improve, according to Khaled Meshaal, Leader of the Palestinian group's political bureau, in an interview with Al-Araby Al-Jadeed newspaper on Saturday.
Meshaal expressed his desire to maintain good ties with Egypt and all Arab countries "for the sake of Palestine and the Arab national security interest".
The Hamas leader reaffirmed Egypt's vital role, as the closest neighbour to Palestine and Gaza, stating that there is an "exceptional interaction" between Egypt and Palestine, both currently and historically.
Meshaal further praised Egypt's contributions regarding Palestinian reconciliation matters, the exchange of prisoners' deals, and ceasefire agreements with Israel.
"Over the past two years, conditions were abnormal, as Hamas was accused of interfering in Egyptian internal affairs, but it was proven that those accusations were untrue," Meshaal said in the interview.
Regarding the Palestinian conflict, Meshaal stated that resistance would continue as long as the occupation and settlement activity continued, and that Hamas is affected by the unstable conditions in its surrounding environment.
In the interview, Meshaal also spoke about Hamas's relations with Saudi Arabia and Iran, the Syrian crisis and the general situation in the region.
Following the ouster of former president Mohamed Morsi in July 2013, Egyptian relations with Hamas had deteriorated, as Egypt repeatedly accused the group of interfering in its internal affairs and supporting Islamist insurgents in Sinai.
In March 2014, an Egyptian court banned Hamas' activities inside Egypt, and confiscated the group's offices. The Cairo Court of Urgent Matters also designated the Al-Qassam Brigades, Hamas' military wing, as a "terrorist group" on 31 January. The group was accused of "participating in terrorist operations" and recent violence in North Sinai.
A Cairo Court for Urgent Matters designated Hamas as a "terrorist organisation" in March, instigating angry and stunned reactions from Hamas officials. However, the Appeals Court later repealed the decision due to the court's lack of jurisdiction.
Hamas, which is the ruling authority in the Gaza Strip, welcomed the court's decision in its favour, noting that "it was a correction to a previous mistake".
Morsi stood trial on charges of espionage for Hamas, and received the life sentence. He was also accused of escaping from Wadi El-Natrun Prison on 28 January 2011, during the first days of the 25 January Revolution, with the help of foreigners, including members of Hamas, and was handed the death sentence in that case.