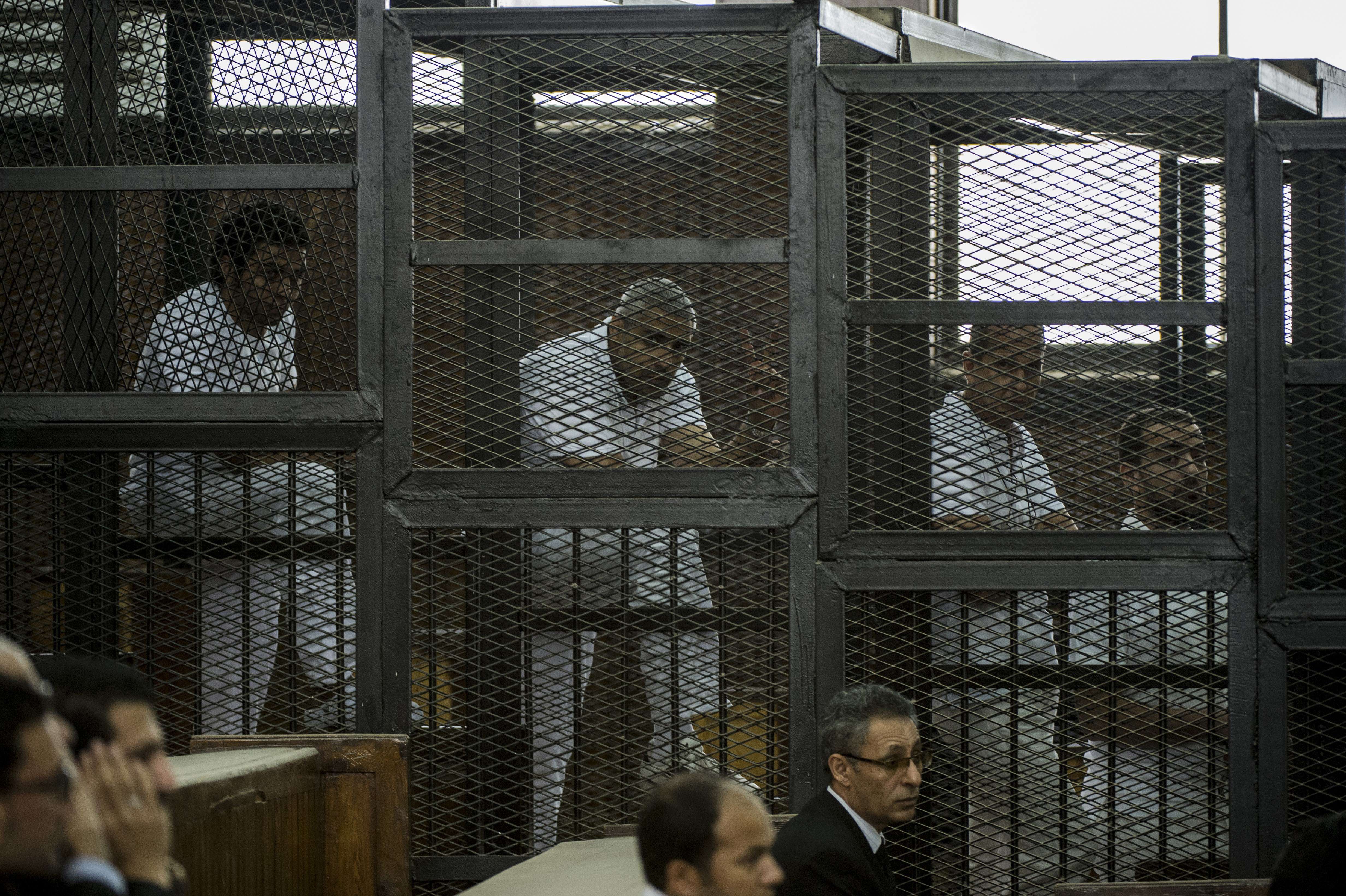 The three Al Jazeera journalists at the centre of an ongoing trial were sentenced on Saturday to three years in prison having been convicted of "spreading false news".
Previously imprisoned for over a year, Baher Mohamed and Mohamed Fahmy, who were present at today's session, will return to prison. The third journalist, Peter Greste, was deported to Australia earlier this year.
Alongside the journalists, other individuals caught up in the case – known as the 'Marriot Cell' – received three years, except two individuals who were acquitted, including artist Noura El-Banna, who was previously sentenced to 10 years in absentia.
Twenty-two year old student Sohaib Saad, who had been forcibly disappeared in June alongside photojournalist Esraa El-Taweel, received three years. He was released earlier this year before disappearing, then appearing in a Ministry of Defence video in which he allegedly confessed to membership of a terrorist cell. Family members, however,  maintain he was tortured into a confession.
Speaking on Al Jazeera after the verdict, Peter Greste said: "It was never clear to us on what basis the judge was making his decisions, it seemed illogical and without reason."
"There is a chance that the court of cassation will overturn this," Greste said. "I call on the millions of people that supported us to keep tweeting, keep talking to politicians, to make Egypt understand that the world does not accept this."
The journalists had hoped for an acquittal, especially since their release pending trial was conditional and their movements were restricted.
The judge introduced his verdict by saying that the court reviewed the case in 13 sessions, "before being completely convinced of the charges". The court concluded that the three were not journalists, as per Egyptian Law, as they are not registered at the Press Syndicate.
The court also charged the three with operating unlicensed equipment, broadcasting false news, and editing videos to show an unrealistic image, with the purpose of harming Egypt's public order.
The case began when Fahmy and Greste were arrested in December 2013 at the Marriot hotel, from which the name "Marriott cell" case stems. Mohamed was arrested later from his house.
The verdict comes after two postponements, amid concerns by the defendants and their families. Mohamed is a father of three youngsters, while Fahmy is getting married.
They had been charged with promoting terrorism and working with the banned Muslim Brotherhood organisation, an argument that National Security prosecution authorities failed to substantiate with evidence. They were accused of fabricating news content to "portray an image of security unrest".
The Egyptian authorities had launched an aggressive campaign against the network for its support of the Brotherhood and former president Mohamed Morsi, who was ousted by the military following popular uprisings on 3 July 2013.
The three journalists received prison terms back in June 2014, as the court sentenced Fahmy and Greste to seven years each, while Mohamed was sentenced to 10 years in prison. This was due to a bullet casing found at his house and confiscated by security forces, which legally was labelled "possession of weapons".
The empty bullet casing had been a souvenir Mohamed had brought home from his coverage of the Libyan conflict. All three were expected to be acquitted from charges in the re-trial. They had repeatedly claimed they had not known the network's equipment was unlicensed, and that they had been manipulated.
The case received massive international attention, as campaigns erupted in support for the journalists.
Fahmy, a Canadian citizen who dropped his Egyptian nationality in order to benefit from a law which deports foreign convicts, had filed a lawsuit demanding $100m in compensation from Al Jazeera network for putting its journalists at risk.
He accused Al Jazeera of deceit, manipulation, and negligence of its own staff. He also claimed that he made many inquiries to the network regarding its legitimate status and the use of his media productions.
Fahmy repeatedly explained to the press that he had been assured by the bureau that he was not working for the locally banned Al Jazeera Mubashir Misr. The content he provided to the network, however, was used on the channel, despite Al Jazeera stating otherwise.
Fahmy's defence team include high-profile lawyers such as Amal Clooney, who attended the court session. Clooney had attempted contact with state officials, aimed at addressing President Abdel Fattah Al-Sisi.
She has been communicating with the Egyptian ambassadors abroad and officials in Egypt and has written a deportation and pardon request that will be submitted to the prosecutor and presidency if Fahmy is sent back to prison, endorsed by the Canadian embassy.
The British and Dutch ambassadors have also been attending court hearings. The trial was one of the busiest in terms of media coverage and reporters' presence inside the courtroom.
"What I saw from the journalism community all over the world, standing side-by-side and calling for press freedom was an amazing endorsement from people I did not personally know. This led me to speak out about others behind bars," Baher stated in a previous interview.
Baher said he hoped that when his case is over, he will continue down that path, possibly create large support groups, whether in Egypt or the rest of the world, as he is aware that targeting journalists has become a serious global issue.
As for Fahmy, he said he believes "the true meaning of press freedom does not exist anywhere in the world, but we have to keep fighting for reform even if the gains are meagre. However, there are countries worse than others, which is becoming an epidemic because a society with no press freedom is an ill one".
"The days of the handbook of full government control used in the '50s and '60s are over thanks to social media, where nothing hides. Of course, there was an improvement in press freedom in the Arab world, but governments went into a state of hyper-paranoia after the death of the Arab Spring, in hopes to suppress that spirit of free speech that we witnessed," Fahmy added.