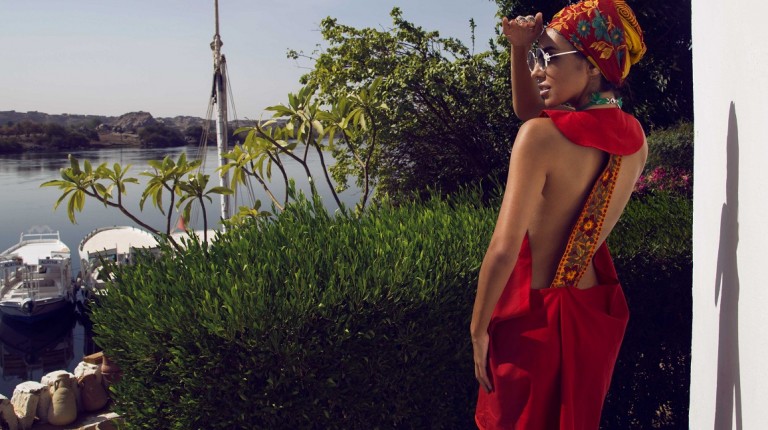 Inspiration is key for any artist, and while some might find it in their own neighbourhoods, others might travel for miles just for a glimpse of it. Amr Saad is a local artist who could not find the right inspiration to pursue jewellery designing in his local environment.
Just a few months after the 25 January Revolution, Saad booked a ticket to Italy to experience a new adventure that could aid his artistic decision. And just like that, an impressive silversmith career started.
Saad's label is one of the country's aspiring jewellery brands; it is one of the very few, if not only, brands that designs eyewear frames. Shades and glasses are usually considered a mass production item, but to Saad, each and every pair is an independent masterpiece that is made to live past fads and trends.
"Handmade" is one point Saad continuously highlights when it comes to explaining his creations, as he personally designs and creates each and every piece. "Raw materials" are another essential element that justifies why he refuses to be mistaken for an "accessory" brand, especially as his eyewear is always made of gold, silver and precious stones.
"I studied business to begin with, got carried away and went for my master degrees in international marketing, which I guess should come in handy with my brand right now," Saad added. "My interest in jewellery was abrupt, as I went to Florence, signed up at a jewellery making course, done, accepted."
And just like that, a whole new chapter in Saad's life, which also saw the start of a jewellery-making chapter in Egypt. After creating a few pieces, Saad found himself intrigued by the artsy aspect of the matter.
"Eyewear designing came out of my own curiosity, after customising some pieces," he said.
It was not long before he became certain that this was the craft for him. In two years, "Amr Saad" has become a name for unique and outstanding eyewear. Today, the designer's work is linked to high expectations and absolute art. "Quality and authenticity are the main concept behind my brand," said Saad.
The designer's specialty is metal, meaning that his art vividly spreads to cover anything and everything around him. "As a metal artist I can basically add any artwork to any material, whether furniture, cloth, glass etc," he said.
This unique specialty is not yet fully understood by the local audience, but Saad's brand seems to be changing this. While the artist feels concerned about the audience's feedback, the increasing social media reactions certainly prove otherwise.
"Urban Infused" is Saad's newest eyewear collection that was shot in Aswan by the incredible local talent, Aisha Al-Shabrawy. The cinematic shoot, which was styled by Sundos El-Ayoub and modelled by Salma Abu Deif, showcases the brilliance behind the masterpieces as it highlights the artist's Egyptian origins with a twist of modernism.
The collection includes never-seen-before metal shades that are both unique and extremely trendy. According to Saad, he was inspired by fashion's constant evolution and the retro concepts that keep re-emerging from time to time. The pieces are magnificently made out of pure silver with a mix of precise details and bold designs.
Saad is currently working on his jewellery collection and he also promises his clients interesting upcoming collaborations, which could include anything and everything metal!