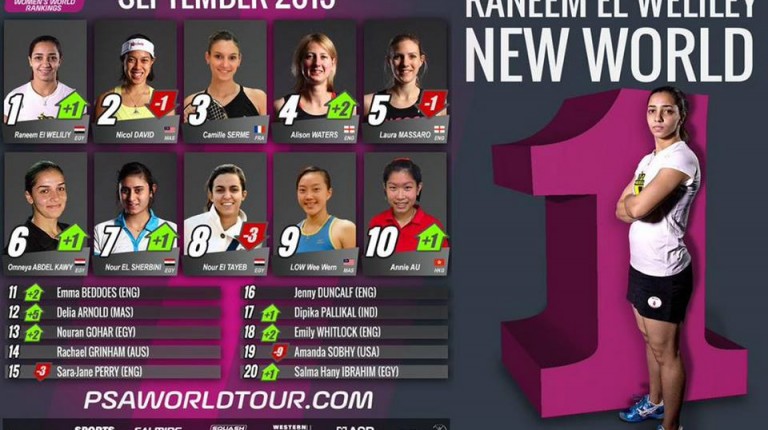 The Professional Squash Association (PSA) has ranked Egyptian professional squash player Raneem El-Welily the number one player on the September 2015 PSA Women's World Rankings list. El-Welily, a 26-year-old from Alexandria, ended the nine year long reign of Malaysia's Nicol David as World No.1.
"I'm absolutely thrilled to have become the new World No.1," El-Welily told PSA. "Nicol has been number one for so long and the gap between her and all of us has been so huge that to get close to her is an achievement in itself. To be the person to finally overtake her is huge for me."
El-Welily was also named 'PSA Women's Player of the Year' in 2015. As the World No.2 during the first eight months of 2015, she also took the top spots in tournaments, in the J.P. Morgan Tournament of Champions, the Guggenheim Partners Windy City Open and the Alexandria Open.
According to the PSA, El-Welily has 23,830 points from nine tournaments. On 3 September, she will begin her 2015/16 season at the 'Stars On The Bund' China Open.
The top 10 on the September 2015 PSA Women's World Rankings list also includes three other Egyptians – Omneya Abdel Kawy, Nour El-Sherbini and Nour El-Tayeb.