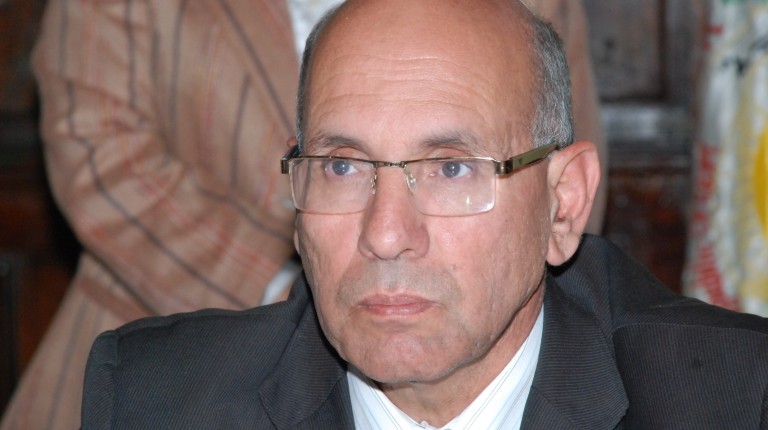 Minister of Irrigation Hossam Moghazi was appointed Monday as acting Minsiter of Agriculture, following the arrest of former agriculture minister Salah Helal on corruption charges.
The prosecution ordered the detention of Helal, his assistant, and two others, pending investigations on charges of corruption.
Cabinet spokesperson Hossam El-Kawish said Tuesday that the case is in the hands of the prosecution, and that Prime Minister Ibrahim Mehleb has asserted that the government is fighting corruption on all levels. El-Kawish emphasised that all sectors are working, with no cabinet reshuffle expected.
On the same day, news reports said that security officials at Cairo International Airport prevented Minister of Religious Endowments Mohamed Mokhtar Gomaa from travelling to Saudi Arabia.
The Ministry of Religious Endowments' spokesperson denied such reports, describing them as "false and inciting", vowing to prosecute whoever published such reports.
On Sunday, state media reported a possible cabinet reshuffle which was denied by El-Kawish. Days later, former agriculture minister Helal resigned and was subsequently arrested. Prosecution authorities also ordered a media gag on the case, with the exception of official statements issued by the authority itself.
The case was opened last week when the deputy minister was arrested on bribery accusations, and prosecution authorities enforced a media gag on the case. Helal had denounced the matter, saying he had no knowledge on the matter and that his assistant did not inform him of allocating lands to any persons.
On Monday, the prosecution released a statement detailing the amount of money ministerial officials received as "presents", in exchange for a personal favour for a businessman. The favour pertained to issuing official documents concerning an agricultural land of 2,500 acres in Wadi El-Natrun.
Bribes received include a house worth EGP 8.25m in a residential compound in 6th of October City, expensive clothes at a cost of EGP 230,000, and travel expenses for 16 family members of the suspects to perform the Hajj pilgrimage at a cost of nearly EGP 145,000 (SR 70,000) per person.
The prosecution further revealed a total of EGP 140,000 as the price of a membership at the Al-Ahly Sporting Club for one of the defendants, another spent EGP 14,500 for an 'Iftar ceremony in a hotel', and EGP 11,000 on two mobile phones.
According to the NGO Partners for Transparency (PFT), working on corruption, there were seven cases at the Agriculture Ministry in August alone. The ministry comes among the top three most corrupt institutions in its August report, after local administrations and the Supply Ministry.
The PFT reported that on 15 August, employees with the General Authority for Reconstruction Projects & Agricultural Development (GARPAD), affiliated with the ministry, accused Helal of 'covering up' on corruption. GARPAD senior employees were also under investigations on charges of illicit gains and squandering public funds in mid-July, as the unaccounted-for funds were estimated at more than EGP 6m.
In July, the PFT reported six corruption cases at the ministry, ranking fourth after local councils, and the Ministries of Health, and Petroleum.
On a different note, the Administrative Prosecution said in recently issued report on construction violations and illegal building on agricultural lands, that they exceeded 7,000 cases in 2014. Although the Ministry of Agriculture is not solely responsible for such infringements,
the Administrative Prosecution said that they were the results of corrupt officials at both local and agricultural administrations.
President Abdel Fattah Al-Sisi had laid out some statistics in an April speech as following: 344 detected cases of illicit gains and bribes; EGP 3.5bn recovered from illegally seized lands; and a total space of 135,000 sqm.
According to PFT Director Walaa Gad, the above issue is complicated, because the law on local administration allows the local municipalities and governorates to take action against construction violations on agricultural lands, whereas the Ministry of Agriculture has a more administrative role.
"There should be coordination between the two entities, but in general the ministry can only report a violation, while the acting authority is in the hand of local units," Gad told Daily News Egypt on Tuesday.
Meanwhile, the Administrative Prosecution referred eight officials at the Ministry of Religious Endowments to court last July on corruption charges, as they were accused of neglecting their responsibilities in collecting public money, resulting in the waste of funds.
PFT reported two corruption cases in August and three in July for the Ministry of Religious Endowments, including a case on 5 August involving six lawyers at the ministry in financial and administrative corruption.
On a further note, Gad speculated that if any more ministries were to be reshuffled or penalised on corruption charges, the Ministries of Local Development and Supply would be targeted. According to reports, corruption is also prevalent in the Ministries of Education and Health.