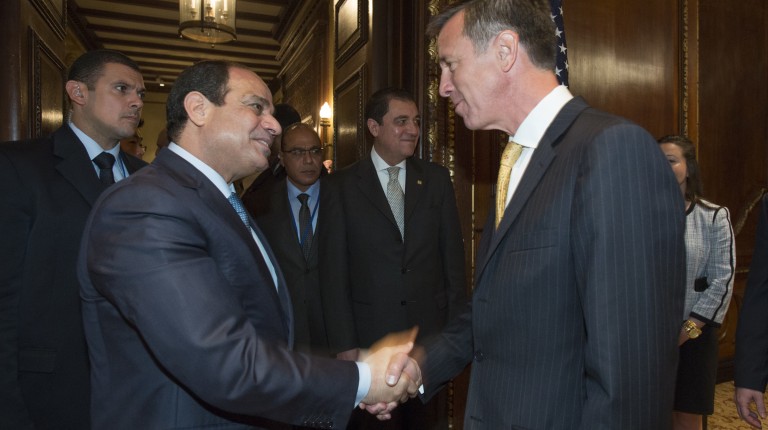 Mahmoud Abu Zeid 'Shawkan' has been publicly recognised by the judiciary as a photojournalist in the court's official papers, as he was referred to trial last Wednesday and his first trial session was set for 12 December.
"This is already a positive step. Shawkan presented all documents proving his profession," Karim Abdul Rady told Daily News Egypt Saturday. This comes as initial reports had pointed out to the confiscation of his camera and fears of authorities' failure to note his job.
Shawkan will be endorsed in court with the presence of the Press Syndicate, which took a stance against his imprisonment and hosted several rallies and press conferences demanding his freedom.
No other journalists are facing charges in the case. According to the Committee to Protect Journalists (CPJ), Shawkan had contributed to the UK-based citizen journalism site and photo agency Demotix. The outlet confirmed to Egyptian authorities that he had been covering the clashes for the agency.
Shawkan's defence team has repeatedly accused state authorities of intransigence, after reportedly being prevented from accessing the legal documents regarding his case. Several requests to release Shawkan on bail until the end of the trial have been ignored.
"We faced difficulties in every legal procedure, for the purpose of keeping Shawkan in detention until he was referred to court," Abdul Rady said.
Shawkan was arrested on 14 August 2013 at the forceful dispersal of pro-Muslim Brotherhood sit-in at Rabaa Al-Adaweya. By law, he should have been released from prison, to continue facing trial after two years, which did not happen.
"Now the trial date is set too far, so it is not acceptable that he remains in jail for over two more months. We have submitted a report to the Prosecutor General and we are targeting the state's executive powers this time, not the judicial authority," Abdul Rady stated.
Shawkan and the rest of defendants are facing the same charges, which include over 10 accusations related to national security, violence, murder, attacking security forces and civilians, engaging in armed conflicts, and destroying public facilities.
The new case is publicly known as the "Rabaa dispersal" trial, involving former Muslim Brotherhood supreme guide Mohamed Badie, along with leading members Essam Erian, Mohamed El-Beltagy, Assem Abdul Maged, Safwat Hegazy and Osama, son of former president Mohamed Morsi.
There is a total of 738 defendants in the case, making it the largest mass trial in post-30 June Egypt. Many "fugitives" and suspects include workers and employees of all private and public sector fields.
Al-Jazeera journalist Abdullah El-Shamy was arrested at the same time as Shawkan and was eventually granted a release after spending over 10 months in prison and leading a fierce hunger strike campaign