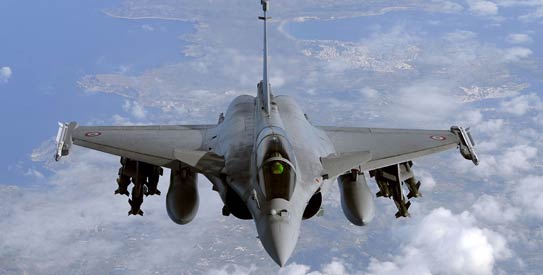 President Abdel Fattah Al-Sisi and his French counterpart François Hollande stressed Tuesday, over a phone call, the importance of "realising peace" in the Middle East and its impact on the security and economic situation in the region.
The presidents discussed ways of advancing the distinct relations that bind Egypt and France and their peoples, "which have recently witnessed progress in various areas," according to a presidency statement.
The two presidents also exchanged views on a number of regional and international issues of mutual interest.
The relations between the two countries saw a strong improvement since the election of Al-Sisi, as a number of significant arms deals were sealed in the past months.
In July, Egypt received three high-tech French Rafale fighter jets, the first batch of 24 jets financed by a French government loan.
The delivery of the jets comes as a part of a military agreement between Egypt and France which includes, alongside the jets, a FREMM frigate. The whole deal is worth of a total of €5.2bn and it is the second large arms deal in a relatively short time, after France sold four Gowind corvettes to Egypt in 2014, rumoured to be worth around €1bn.