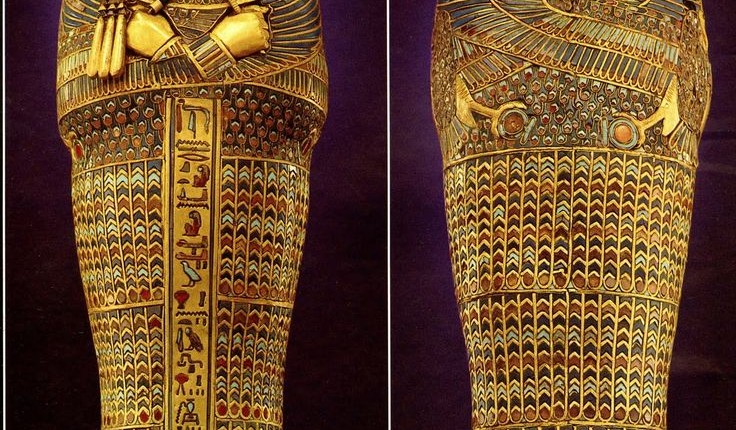 Months ago the world was completely stunned when British scientist Nicholas Reeves, a specialist in Egyptian history and material culture, declared that the world has been looking at Nefertiti's tomb without actually seeing it for years. According to his latest work, the world's most sought-after tomb has been hiding within the world's most famous archaeological sight.
Last Thursday, Minister of Antiquities Mamdouh Eldamaty and Reeves held an international press conference at the State Information Service (SIS) in order to validate what could possibly be the century's greatest archaeological finding.
Earlier this year, professor Reeves announced that, according to his 18-month research, the iconic tomb of Tutankhamun might incubate extra rooms. The professor went on to add that his research even supports the possibility that the missing tomb of Queen Nefertiti might be enclosed in one of the extra compartments.
Reeves's findings include the fact that Tutankhamun's mask was initially made for a queen, as the ears show significant piercing marks, something that was never associated to men in Ancient Egypt.
Also after the initial scans performed a couple of months ago, the tomb's actual structure appears to be an angular corridor instead of the previously thought rooms. This new finding further supports Reeves's assumption that other queens from the 18th dynasty, such as Hatshepsut, had similar tombs.
The minister showed great support towards Reeves's research, especially after inviting the professor to a field trip in Luxor. During the visit Reeves was able to confirm his findings through several visual remarks.
While the tomb's north wall showed evident cracks that suggest the existence of hidden doorways, the paintings covering that particular wall seems to be drawn later than the others as it was painted on a white wall then counselled with yellow painting, unlike the other three walls that were initially yellow.
"Plastid-over walls are often found in many tombs especially in the Valley of the Kings," Reeves added "The tomb was made for a queen; yet, the young king's sudden death changed the tomb's primary plan."
According to the minster, the following step would include a presentation in front of a specialised national committee before issuing the needed permissions to implement both radar and thermal imaging tests.
"The consulting period might take one to three months before issuing the needed permissions; however, I personally hope to perform the tests during November to match the date of Tutankhamun's discovery," said  El-Damaty.
While Reeves strongly believes that Nefertiti is the queen hidden in the tomb's extension, the minister suggests other figures, including Queen Kiya, Tutankhamun's mother, or 18th dynasty pharaoh Meritaten. In all cases the discovery might turn into one of the most important archaeological findings of the 21st century.
"If Reeves's research comes true, this would be the greatest archaeological event since Tut's discovery back in 1922; which makes Tutankhamun the hero of two consecutive centuries," said El-Damaty.