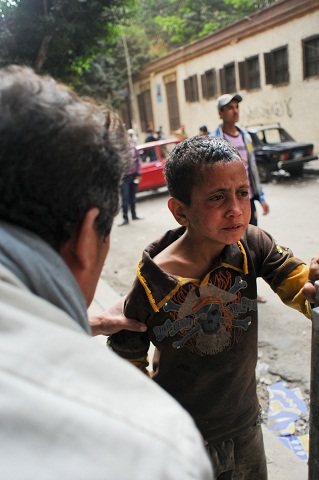 By Engy Adham
A total number of 204 child abuse cases were recorded in September by the Egyptian Foundation for Advancement of Childhood Conditions (EFACC).
The EFACC released a report, documenting child abuse cases that have been highlighted in both governmental and non-governmental, newspapers and websites.
According to the EFACC's September report, 339 children in total have faced child abuse within the 204 recorded cases in September, varying from sexual abuse, physical violence, exploitation, and rape, while others faced shootings.
One-hundred and forty-three children have been victims of child labour activities, domestic abuse and food poisoning incidents. According to the EFACC, there has been an increase in the number of documented child abuse cases, as they were 127 cases recorded in August.
Nesma Abdel Moneim, head of media department at the EFACC, said these reports function as a hub for the responsible parties to take action and enhance the status for child rights in Egypt.
According the UNICEF's official website, in the absence of active preventive and responsive child protection services, the number of abuses would be in constant increase.
"The lack of specialized child protection services with a dedicated and qualified workforce (e.g. social workers, caregivers, judges, police, and prosecutors) is a major gap in Egypt's child welfare system," reads the UNICEF Egypt programme profile for child protection.
On the other hand, General Ayman Helmy, a media centre official at the Ministry of Interior said that there had been two cases of child abuse reported.
A discrepancy between the child abuse records and numbers registered by the Ministry of Interior and the non-governmental sector leaves gap for cooperation and developments in the area of child rights.
According to the EFACC monthly reports, 96 children have been reported killed in September as a result of child abuse, while there has been a significant decrease in sexual exploitation cases. However, not all cases are reported and therefore registered.
Although child abuse violations take place all over Egypt, higher numbers are recorded in rural areas. Rural areas have witnessed 168 child abuse cases, while the urban areas saw 36 cases reported.
According to the EFACC report, non-governmental organisations have played the predominant role in following and documenting the updates on child rights, rather than the governmental sector.
The EFACC called on the National Council for Childhood and Motherhood to start functioning under the cabinet, to better coordinate the efforts of the governmental and non-governmental sectors to enhance the profile of child rights in Egypt.