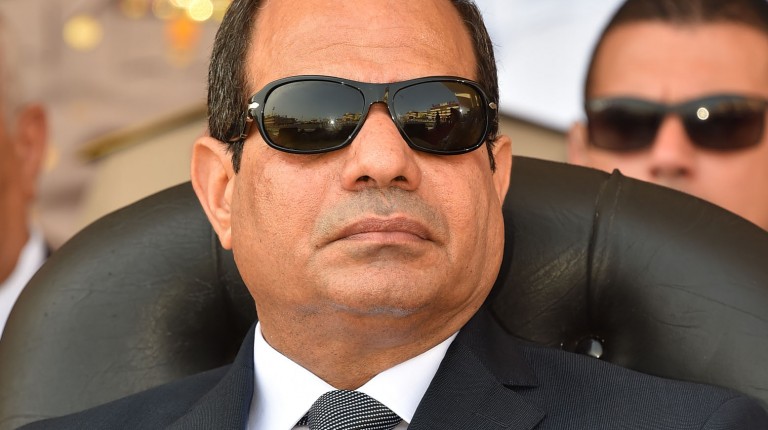 President Abdel Fattah Al-Sisi met with Saudi Foreign Minister Adel Al-Jubeir Sunday, where bilateral relations and the Syrian crisis were discussed, along with proposed plans to hold more frequent meetings to enhance coordination.
Egyptian Foreign Minister Sameh Shoukry and the Saudi Ambassador to Egypt Ahmed Kattan also attended.
Al-Jubeir highlighted the strong and longstanding strategic partnership enjoyed between Egypt and the kingdom of Saudi Arabia, and stressed the significance of further advancing relations in various fields.
Similarly, Al-Sisi commended the historic relations that bind both countries, and called for enhanced cooperation and coordination, particularly with regards to combating terrorism and establishing security and stability.
The Saudi foreign minister extended an invitation to Al-Sisi on behalf of King Salman bin Abdul Aziz to attend the fourth Summit of South American and Arab countries, scheduled to take place in Riyadh in November.
Both sides agreed on the need to convene more frequently and to hold political consultations on a quarterly basis rather than annually. The establishment of an 'Egyptian-Saudi Coordination Council' was also discussed during the meeting, in line with the expressed desire to enhance cooperation between both states.
Regarding regional issues, both sides expressed the importance of preserving the states' stability and territorial integrity, and the need to arrive at political solutions to conflicts.
The Syrian crisis came at the forefront of regional developments discussed during the meeting. Al-Sisi stressed the importance of reaching a political settlement to the conflict in coordination with regional and international powers, while preserving Syria's territorial unity and upholding the Syrian people's will.
Al-Sisi further pointed to the necessity of commencing reconstruction efforts once a political settlement is reached.
Although, an alignment in views concerning regional issues was expressed during the meeting, the foreign policies of both states appear to diverge with respect to the Syrian case specifically.
In recent months, Egypt has been calling for a political solution; one that appears to include the maintenance of the Al-Assad regime. However, Saudi Arabia has long been pushing for the removal of Al-Assad's regime through significant funding and arming of rebel groups during the four-year conflict.
Also on Sunday, a private meeting was held between Shoukry and Al-Jubeir, where current disturbances in Arab countries were discussed.  A press conference was organised in the Ministry of Foreign Affairs in Cairo following the meeting.