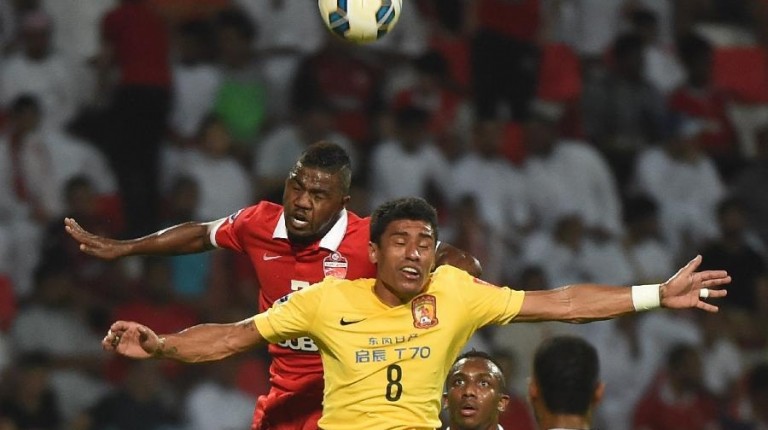 UAE football team Al-Ahli Dubai came out of the first leg of the Asian Football Confederation (AFC) finals against the Chinese team Guangzhou Aafaragrand with a draw.
The chances of the Chinese team of being crowned champion increased since it needs to win with any score during the second leg of the finals, which will be held in two weeks in Guangzhou Stadium.
The UAE team failed to score any goals and only played defence. The Chinese team, led by Brazilian coach Luiz Felipe Scolari, controlled the entire first half.
During the second half, it slightly changed. Al-Ahli players moved to offence and had the opportunity to control the game, especially after the injury of Guangzhou's Brazilian player Ricardo Goulart, who is the tournament's top scorer so far with eight goals. However, Al-Ahli failed to pose any real threat. The team only had two shoots on target throughout the game versus four for the Chinese team.
Both goalkeepers shone during the game: Al-Ahli's goalkeeper Ahmed Mahmoud, known as Dida, saved his team three unrealised opportunities. The Chinese team's goalkeeper, Zheng Cheng, also saved his nets from two shots by Ismail Al-Hammadi and Lima.
Overall, the game was tactically completely closed, lowering opportunities of scoring, which is normal for the finals of the largest tournament of the continent and the qualifier to the FIFA Club World Cup.
A goalless draw may be in the interest of the Chinese team but it will not completely deprive Al-Ahli its chances to score its first AFC cup. If Al-Ahli successfully scores any goals in the second leg, it will put the Chinese team in a tight position, especially with Al-Ahli's good rebound game or even under a positive draw. However, Al-Ahli will be affected by the absence of its right-back, Abdulaziz Haikal, who received a red card in the first leg of the finals after injuring a player of the Chinese team.
Guangzhou hopes to score its second AFC cup this year. It received its first cup in 2013. The team also hold five local titles, four of which are for the Chinese Super League and the other in the Chinese FA Cup. Al-Ahli has 11 local titles; three UAE League titles, three UAE Super Cups, three UAE President's Cups, and one Gulf Cup of Nations.