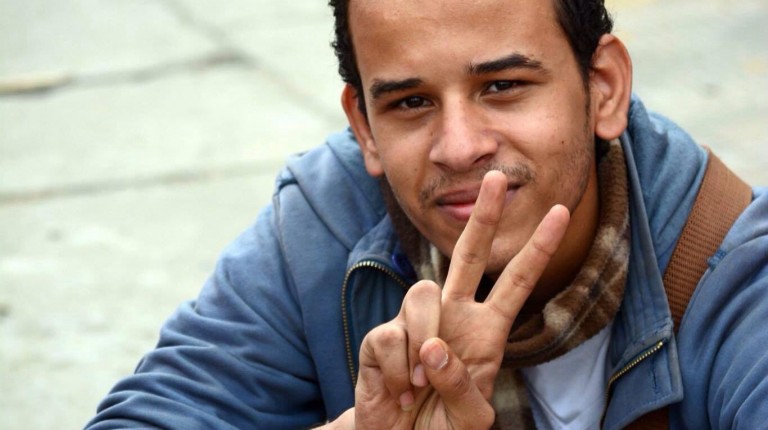 By Tarek 'Tito' Hussein
Ramy El-Sayed
 Ramy El-Sayed is 28-years-old, a graduate from the Faculty of Languages, a translator and a member of 6 April youth movement.
On 1 September, 2014, El-Sayed and a number of members of the 6 April movement went to extend condolences to the family of their martyred friend Ahmed El-Masry in Bulaq Dakrur, on the first anniversary of El-Masry's martyrdom. El-Masry was a member of the movement and died on 1 September 2013, after he was shot on 14 August by police forces on his way to work in Mostafa Mahmoud Square.
On that day, police forces arrested El-Sayed and 10 of his friends. They were accused of many charges, but were released on EGP 1,000 bail two days after. I believe the prosecution could tell they were innocent. El-Sayed and his friends thought the case was closed. However, a year later, websites reported that they were charged and sentenced in absentia to 25 years by Judge Nagy Shehata. The verdict was issued in absentia, as they were never informed they were referred to trial.
Days later, El-Sayed was arrested. He appealed the verdict, but is now spending his days behind bards awaiting another trial, simply for extending condolences to the family of a martyred friend.
Mahienour El-Massry
It was only a few months after receiving the 2014 Ludovic Trarieux Award for her role in defending human rights, that Mahienour was detained at the Damanhour prison. Mahienour El-Massry is a human rights lawyer known for her defence of workers' rights before and after the revolution, as well as many other cases, including refugees. She never differentiated between people, but defended everybody.
This resulted in her arrest twice over the past three years. The first time she was arrested was for the case of Khaled Said, which sparked the revolution in 2011. El-Massry spent over four months in prison at the time. She heard about her nomination for the 2014 Ludovic Trarieux Award in a hearing that sought to halt the implementation of her sentence until the appeal is accepted. The appeal was accepted when she was in Italy receiving the award that is given annually to prominent human rights activists for their roles in defending rights. Her name was on a long list of global human rights lawyers, including Nelson Mandela. Over a year later, she went back to the dark prison — but she was sentenced to a year and three months for attempting to topple the regime – with Youssef Shaaban and Luay Al-Qahwaji. On the first anniversary of her award, the world was celebrating her, while Egypt locked her up in the dark.
Ahmed Maher
Maher, a former coordinator of the 6 April youth movement, is serving a three-year sentence for the case known as the 'Abdeen demonstration'. On the day of his arrest, Maher had planned to hand himself in after learning he was charged in another case known as the Shura Council demonstration, even though he was not there. Maher was arrested while protesting in front of Abdeen Palace in solidarity with detainees of the Shura Council demonstrations.
After being investigated for the Shura Council case, he was released by the general prosecution. However, he was interrogated in the Abdeen case. The case, which included him and his friends Mohamed Adel and Ahmed Douma, was quickly refereed to trial. They were sentenced to three years in prison. Since December 2013, Maher has been serving his sentence in solitary confinement at Tora Prison. He is banned from interacting with other inmates by any means. He is on a tight schedule that differs from all other prisoners. He is banned from writing, reading, and borrowing books from the prison library. He can only meet his two children for a few minutes from time to time.
Alaa Abdel Fattah
One of the most talented software developers in the Middle East, Alaa Abdel Fattah is the son of the late political activists Ahmed Seif Al-Islam and Laila Soueif. Alaa returned from South Africa during the outbreak of the 25 January Revolution to participate. His voice was strong and his words echoed. He was imprisoned several times, during the Mubarak era, the era of the Supreme Council of the Armed Forces, and most recently for five years under Al-Sisi's government, after being charged during Morsi's regime.
Jail bars separated him and his wife when she was having their first baby, Khaled. They prevented him from saying goodbye to his father before he passed away.
Abdel Fattah was sentenced to five years for taking part in the Shura Council demonstration that called for an end to military trials for civilians. Although some of the detainees on the same case were freed by a presidential pardon in September, he was left in prison with Ahmed Abdel Rahman, who was arrested while defending women who were attacked by plain-clothes policemen. The president pardoned all detainees in the case except Abdel Fattah and Abdel Rahman. The regime seems to be afraid of Abdel Fattah and his pen, while forcing Abdel Rahman to pay the price for his magnanimity.
Abdel Fattah, El-Masry, El-Sayed, and thousands of others are spending months and years behind bars, not for crimes they committed, but for defending rights and refusing injustice. If we were living in another country, each of them would have become a minister. They stood against religious fascism as well as that of the military. And while they were praised for their efforts by politicians, the media defamed them.
Freedom shall reach those who defended thousands of prisoners. Freedom shall reach those who stood still before bullets, calling for the rights of the people.
Tarek 'Tito' Hussein handles the files of political detainees, rights and freedoms at Al-Dostour Party, a political opposition party. He is the brother of anti-torture t-shirt detainee Mahmoud Hussein.