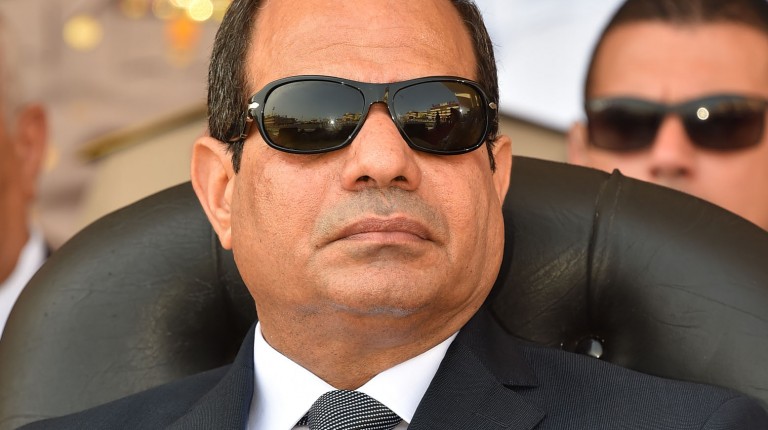 The Egyptian government is committed to establishing the foundations of a modern state that upholds the rule of law and nurtures the values of democracy and social solidarity, Egyptian President Abdel Fattah Al-Sisi said during his meeting with a delegation from the US Congress.
Al-Sisi affirmed the importance of military relations between Egypt and the US in achieving common interests and addressing various challenges, according to a statement released by the presidency after the meeting on Saturday.
"President Al-Sisi emphasized that Egypt places importance on promoting strategic relations and longstanding cooperation with the US, given the ongoing regional and international developments, chiefly the growing threat of terrorism," the statement read.
The delegation, which was led by the Chairman of the House Armed Services Committee's Subcommittee on Readiness, Republican Congressman Robert Joseph Wittman, reaffirmed its commitment to "further strengthening the already strong relations that exist between Egypt and the US", according to the Egyptian presidency's statement.
The delegation acknowledged Egypt's role as a cornerstone for security and stability in the Middle East, in light of the challenges and the crises it faces, said the statement.
"They also expressed their appreciation for the progress that Egypt has made in terms of political and economic reforms in spite of the security and economic challenges, and they hoped that Egypt would continue pursuing its democratic and economic development," the statement read.
The delegation members also lauded Egypt's commitment to implementing all the milestones enshrined in the "Roadmap for the Future", which demonstrates the government's dedication to consolidate the state's legislative and democratic frameworks.
Both sides addressed ways to improve cooperation in combating terrorism and preventing the proliferation of extremist thought.