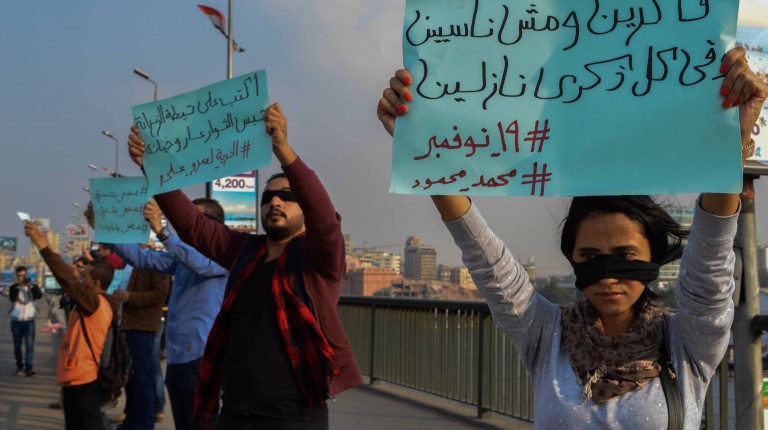 The trial of 11 defendants in the "Mohamed Mahmoud Commemoration Rally" case resumed on Tuesday, only to be postponed to 5 January due to a failure to provide case documents to the defence lawyers, according to the Association for Freedom of Thought and Expression (AFTE).
The postponement decision by Qasr Al-Nil Misdemeanour Court follows the sentencing of four other defendants in a related case on Sunday.
The two groups of defendants were arrested separately for taking part in protests in commemoration of the 2011 clashes in downtown Cairo's Mohamed Mahmoud Street, in the first year of the 25 January Revolution.
Of the 11 still facing trial, nine were arrested for rallying on 6th of October Bridge in November this year, while one other man later handed himself over to police and another female protester was arrested later, according to AFTE lawyer Ahmed Osman. All 11 were detained and processed through Qasr Al-Nil police station.
The defendants face charges of illegal public assembly and protesting without prior authorisation (in line with the Protest Law) after  rallying in silence and holding posters reading: "We will not forget."
The second group of defendants was sentenced by the Abdeen Misdemeanor Court on Sunday, with all four receiving prison sentences of two years. They have lodged an appeal with an appeals court, and their case is scheduled for 30 December, according to AFTE.
They were arrested while protesting in front of the house of activist Gaber Salah (also known as "Jika"), who died in the 2011 clashes.
In both trials (Abdeen and Qasr Al-Nil) the defendants face the same charges, leading lawyers to suspect that the remaining 11 defendants could face prison sentences if convicted.
"In the Abdeen case, where a prison verdict was issued, defence lawyers had read the case files and prepared arguments, so the case concluded," Osman told Daily News Egypt on Tuesday.
"However, in today's trial we had not yet obtained the documents for the case, which is why it has been postponed," Osman added.
The defendants are currently imprisoned, after their release on bail was rejected by court.