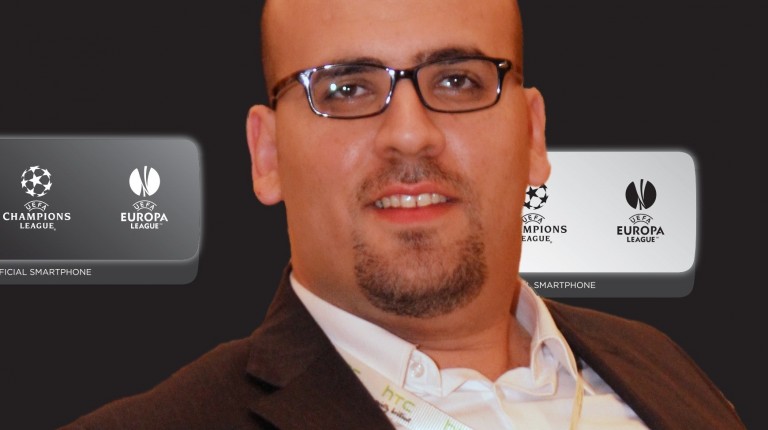 Jovi Tronix, HTC Smartphone's exclusive agent in Egypt, aims to increase to 10 after-sale service centres in 2016. The company plans to increase HTC's market share to 14% throughout 2016, according to the company sales manager Tarek Abdel Mohsen.
Daily News Egypt spoke to Abdel Mohsen on the occasion of the 2012 Cairo ICT conference, to discuss the company's strategy and future plans.
What is the company's main strategy in the phone sector in Egypt?
Since the launch of Jovi Tronix in 2005 by Youssef El-Gazzar, we adopted a specific approach to address the Egyptian market. The approach mainly depends on offering our customers high quality products. We also target customers who are interested in higher quality but cheaper prices, and so we began our strategic partnership with HTC, one of the largest companies manufacturing smart phones. It is considered a major company in the field of smartphone manufacturing, with the most innovative smart phones on a global level.
Since the beginning of our activity, we managed to achieve rapid growth rates, which helped us become exclusive agents of HTC in Egypt and eight other Arab and African countries.
What challenges does the company face in Egypt?
There are a number of challenges we face in the Egyptian market but that are not involved in the field of competition. The challenges we face are related to providing dollars to cover the needs of the Egyptian market without restrictions.
Another challenge is the instability of the exchange rate, which negatively affects the profitability of companies working in the field because consumers do not accept any increase in prices despite their awareness of the increase of dollar prices to the Egyptian pound.
The final challenge is the increase of the number of smuggled devices, which negatively impacts all companies in the market.
Is HTC facing challenges due to the change of purchasing power in Egypt as a result of economic conditions?
All companies working in the local market are affected by the changes in purchasing power, whether negatively or positively. Luckily, we address the higher class of consumers with our HTC devices because we do not sell our phones for low prices. These consumers are not as affected asother classes of society.
How do you view the purchasing power in the local market?
At the peak of the economic crisis, the Egyptian market managed to collect EGP 60bn in less than a week for the new Suez Canal project.
Last month, when an increase in the interest rates of banks was announced, about EGP 48bn were collected in just a few days. This confirms that the Egyptian market is large but has a problem of disorganisation. There is also a lack of availability of data on which companies can establish plans, because there is no focus on auditing data and statistics that show the size of the market and its strengths or weaknesses.
What solutions does Jovi Tronix rely on to stimulate consumers' purchasing power?
Throughout the year, we will have a marketing plan connected to events, like holidays and other occasions, during which there are demands on purchasing, while during recession periods, we try to launch marketing campaigns for products and offers. We cooperate with marketing administrations in all Egyptian companies working in the field of smartphone sales, such as Mobile Shop, Raya, and B.Tech. We have already launched several campaigns with each of them before.
Is the company considering establishing a factory for phone assembly to deal with import barriers?
It is unlikely that Jovi Tronix will do this, but we may take this into consideration in the future.
Does the dollar price significantly affect the company?
It affects all of Egypt, not just the company. This period requires a lot of work in order for us to come out of the crisis, and the only way out is through hard work.
How did HTC deal with knock-off imitation phones and the vicious competition from Chinese companies?
We have nothing to do with this category of phones. Our client base is completely different and comes from different social and educational categories. It is unlikely that they would be interested in those types of models.
How did low-price phones affect HTC's sales?
It is difficult to compare HTC to any other company because our customers are different and ther appreciate the value of the brand we offer. Our devices have high specifications, which justify its relatively high price. This makes our target customers different from those of competing companies.
What is HTC's share of smartphones sold in the local market? What are your goals for 2016?
According to the latest statistics from IDC, HTC acquired 7% of the smartphones market share in Egypt. Next year, we expect to double our market share to 14%.
What is the volume of smartphone sales in Egypt?
About 6.5m smartphone devices were sold in Egypt throughout 2015, and it is rapidly increasing at the moment. The Egyptian market is still young in this sector.
How many phone models does HTC launch per year?
Some models are produced exclusively for certain geographic areas. Some models are manufactured for the Chinese market, while others are made for the US market. As for Egypt, about 10-12 models are produced annually.
Does HTC aim to launch new models in the upcoming period?
We have many new models, like the HTC One A9 in the most expensive category, which achieved great success. Of course, we have the new winner in the best-seller family of phones in Egypt, the "Desire" family, which represents a mid-price range, between EGP 2,000 and EGP 3,000. The 728 model greatly succeeded, as well as the 816 and 820 models.
Why are the prices of HTC phones rising? Are low-price HTC phones expected to be launched in the upcoming period?
During the dollar crisis and as a result of the recent hike in its price, we allocated a large part of the budget to marketing to cover the deficit and compensate for the difference of the dollar exchange price so we do not resort to increasing the prices of our phones. However our devices are considered pricey compared to other competitors because of their high technical specifications. We have not resorted, and will not resort, to launching low-price phones in the Egyptian market.
What are the features that Egyptian consumers look for in smart phones?
Egyptian consumers are smart and know how to distinguish between good and bad products. They are no longer affected by publicity campaigns, and often choose brands they trust; ones that offer developed phones. Generally, consumers look for design and endurance in phones, as well as camera quality and the speed of the internet connection.
How do you deal with after-sales problems in Egypt?
We have centres all over Cairo and Alexandria and we are expanding steadily. In 2016, there will be some changes in terms of after-sale services, with our guaranteed human resources, who have great experience in the customer service field. We have a plan to expand to 10 centres throughout Egypt.