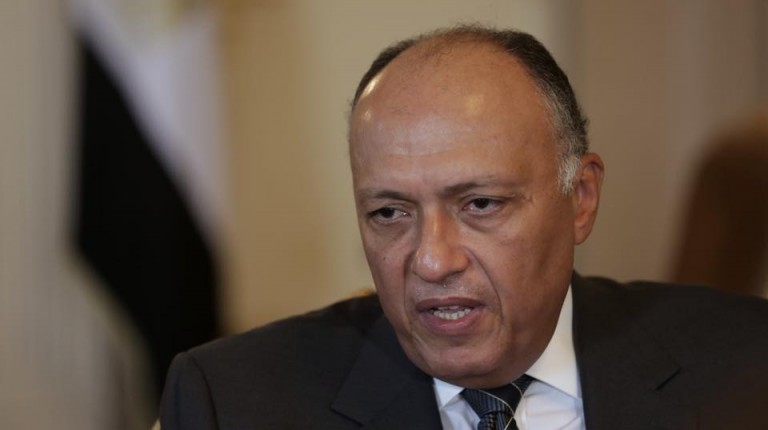 Egypt's Foreign Minister Sameh Shourky has arrived in New York City to participate in an international summit on Syria on Friday, according to a foreign-ministry statement.
Invited by US Secretary of State John Kerry, Shoukry will discuss political prospects of resolving the Syrian conflict. It will be the third such meeting on the same issue that Egypt has taken part in.
Kerry met with Russian President Vladimir Putin in Moscow on Tuesday to discuss the Syrian situation.
"The US and our partners are not seeking so-called regime change," Kerry told reporters in the Russian capital after meeting Putin.
Earlier in December, Saudi Arabia hosted a meeting of Syrian opposition groups with the aim to develop a unified voice for groups seeking to remove the Syrian government of President Bashar Al-Assad.
Saudi Arabia invited 100 persons, including representatives of the Western-backed political alliance the National Coalition for Syrian Revolutionary and Opposition Forces. The National Co-ordination Committee for Democratic Change, the Southern Front alliance, and the two Islamists groups Ahrar Al-Sham, and Jaysh Al-Islam also attended the meeting.
Twelve opposition groups will also attend the conference under the umbrella of the Free Syrian Army.
Following several days of talks, representatives discussed the formation of a delegation with a common position to negotiate with the Syrian government ahead of a second round of negotiations in Vienna in January.